Best Franchise Business Opportunity: Here in This article, We will know about top 10 Franchise Business opportunity that can be easy to start and more profitable business.
What is a franchise exactly?
A franchise is a firm that has been granted permission to distribute its products and services to others, known as "franchisors." Franchise enterprises are typically larger businesses/companies that provide their franchisors with various business alternatives. The term "franchise" refers to the contract that links the franchisor and the franchisee in technical terms.
So now that you have a good understanding of some of the greatest and top Franchise Business Opportunity in India, you may pick one based on your interests, location, and investment capability. Choosing a franchise allows you to start your own business with minimal risk. So in this article, we have provided you with some of the best Franchise Business Opportunity that may help upgrade your financial level.
Want to Grow Your Business - Contact Us
Things to consider before buying a franchise
What is the cost of a franchise?
When setting up a franchise in India, one may expect to spend between Rs. 1 lakh to Rs. 10 lakhs. If you're looking for a low-cost franchise, you can start one for less than Rs 2 lakhs. The majority of these businesses, however, would be home-based. Some are movable, although they are only suitable for small-scale operations.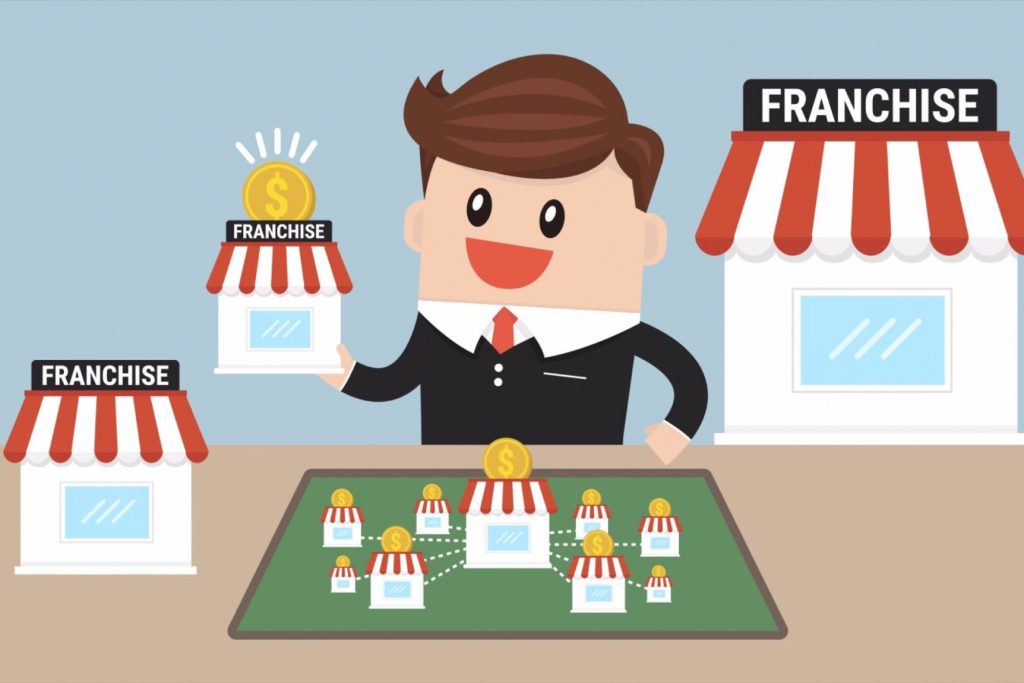 10 Best Franchise Business Opportunity List
So let us start by providing you with the exact details of some of the best franchise opportunity websites:
Jawed Habib Hair and Beauty Ltd.
Jawed Habib developed the 'Jawed Habib' hair grooming and wellbeing company. Jawed comes from a barbering family, so he's no stranger to haircuts. Famous luminaries, including Lord Mountbatten and Pandit Jawaharlal Nehru, had their hair cut by their grandfather. Jawed's father was selected as the official hairstylist of Rashtrapati Bhawan, continuing the family tradition.
On the other hand, Jawed Habib had other ideas and wanted to take his brand nationwide. He was successful in his business ventures and was instrumental in transforming people's perceptions of barbers. Jawed changed the appearance of a regular barber into a stylish hairstylist. Wellbeing, can be one of the Franchise Business Opportunity In India
Lenskart Franchise business
Lenskart is one of India's fastest-growing eyewear companies and one of the Best Franchise Business Opportunity. It has an online and offline presence. Peyush Bansal, Amit Chaudhary, and Sumeet Kapahi started Lenskart in 2010 as an online contact lens platform. Eyeglasses and sunglasses were added to the collection in 2011.
The expansion strategy aims to increase the number of offline locations from the current 330 to 500. Lenskart is striving to be one of the greatest profit franchises because of the vision correction requirement that it provides to the market.
Euro Kids Franchise Business
EuroKids is one of the most well-known preschool chains, and it has developed to be one of the greatest low-cost franchisees. It was created in 2001 by Prajodh Rajan and Vikas Phadnis, and it owes its success to its 'kid first' philosophy. The company has a remarkable reputation as a perfect environment for growing young brains, with over 1000 preschool centers in over 350 cities across India, Nepal, and Bangladesh. It plans to capitalize on this expansion by spending INR 500 crores on approximately 2,000 additional schools.
In India, the preschool industry has grown steadily and is predicted to develop at a compound annual rate of roughly 32% in the next 3-4 years.
Patanjali Franchise Business
For years, it has been a recognized and popular Indian brand. Baba Ramdev, also with Acharya Balkishan, started this Patanjali in 2006, and it now has a revenue of more than 200 crores. This is one of the Best Franchise Business Opportunity.
Herbal and Ayurvedic products were the company's first product lines. After achieving remarkable success in this arena, Patanjali expanded its company into other areas, including skincare products, health care, hygiene products, food items, and much more.
It has evolved into the most highly valued FMCG item. You will need a minimum area space of 500 sq ft and a minimum investment of 7 lakhs to obtain its franchise; nevertheless, you can exceed the money as per your budget.
Domino's Franchise Business
Domino's, With over 500 locations across India, it is one of the most well-known pizza franchises in the country. It was founded in 1960 and has since become the most popular and largest pizza delivery business. This is one of the Best Franchise Business Opportunity.
You'll be surprised to learn that it has over 1 million customers in over 70 countries, including India.
It is available in over 120 cities across India, and Jubilant Food Works Limited owns it. Thus you must partner with them to obtain a franchise. A minimum space of 1500 square feet and a minimum investment of 30 lakhs are required to obtain its franchise.
The main advantage of this franchise is that it is a well-known brand with a popular taste; hence, there are excellent possibilities of making a profit.
KFC Franchise Business
KFC stands for Kentucky Fried Chicken, and it was founded in 1939 in the United States. With over 20,000 branches worldwide, it has established a reputable brand. It operates in over 115 countries, making it among its largest restaurant corporations. It was placed 201 on the Fortune 500 list and This is one of the Best Franchise Business Opportunity. .
They sell chicken, non-vegetarian and vegetarian snacks and burgers, and cool drinks. It serves about 12 million clients every day, which is a tremendous quantity. People enjoy its taste and trust its quality, so getting a franchise can benefit.
If you have a minimum floor area of 500 square feet, a minimum investment of Rs.50 lakhs, and your premises are in a suitable location, this might be one of the best franchise opportunities.
Lenskart Franchise Business
This company provides optical lenses, sunglasses, eyewear, and frames to people of all ages and is considered one of the fastest-growing businesses. In just a few years, it has grown extremely popular in India. It was founded in 2010 and had stores in over 1000 cities. This is one of the Best Franchise Business Opportunity.
They provide a wide range of options, making them the top pick for anyone seeking optical or lenses.
You'll need a capital requirement of Rs.30 lakhs and a minimum area space of 300 square feet to get a franchise, and it'd be ideal if you opened it nearby clinics, supermarkets, or any optical store.
Lakme Franchise Business
When women hear the word Lakme, they feel excited. It is one of the most well-known and well-liked beauty and cosmetics brands globally. It first opened in 1952 and has kept its reputation and quality ever since.
If you want to get this franchise, you'll need at least 25 lakhs to provide the greatest service to consumers. For opening a Lakme Salon, 200 square feet of land is necessary.
Baskin-Robbins Franchise Business
It was founded in 1945 as an ice cream and frozen food chain in the United States. With over 7000 locations in more than 50 countries, it has become a well-known food and beverage brand.
Working with Baskin Robbins is that they offer great worldwide branding, partnerships, and collaborative opportunities. They are well-known for their motto, "31 Flavors," which implies that customers can enjoy a new flavor of ice cream every day.
If you want to get a franchise, you'll need to invest at least Rs.10 lakh and have 200-500 square feet of space. Thus, if you want to start an ice cream shop and make many people happy, you should choose a Baskin Robbins franchise and this is one of the Best Franchise Business Opportunity.
Amul Franchise Business
Amul, India's leading indigenous brand, was founded in 1946 and began franchising in 2000. This is one of the Best Franchise Business Opportunity.
It provides a fantastic opportunity to create a profitable business with minimal capital. However, it propels India to the top of the global milk supply chain and soon established itself as India's best franchise.
It now has more than 2500 franchise units dispersed across the globe.
You can easily apply for an Amul franchise for a cheap investment of 2-6 lakhs and quickly earn a lot of money. It was officially said that depending on your Amul franchise's location. You could earn 5-10 lakh every month.