One Bite Franchise: One Bite is a lively and engaging fast food restaurant that offers a wide variety of foods to our customers in a pleasing manner also this very unique and best fast-food franchise is affordable and easy to manage. Here in this article, You will be able to know about how to apply for One Bite Franchise, What will be One Bite Franchise cost & What will be the profit margin in this industry.
In business, great things are never accomplished by a single person; a group of people accomplishes them. Our franchisees are the same people supporting and counting on us in PAN INDIA's "One Bite" expansion.
Being a new endeavor in the industry, we wouldn't be able to succeed without the help of our Franchise Alliance. "Most good associations are built on trust and understanding. So give "One Bite" a chance to become a successful Franchisee with low investment and high returns.
Content Us For Digital Branding / Marketing
What are the Best Features of the One Bite Franchise: –
An affordable investment with good returns.
Because the investment is lower, the break-even time is 9-12 months.
The royalty of 2% is low. If your monthly sales are less than 2.5 lacs, you will not be charged a royalty.
At the time of the outlet's opening, trained staff support will be available.
We will assist you in hiring local employees for your specific outlet.
A pocket-friendly menu to attract diners, with burgers starting at 31 and pizzas at 61.
There will be no wastage because we use the best Customised Inventory Management software.
As we have had to assemble Frozen Pre-cooked stuff at the shop level, no chefs are required. Therefore a new guy on very low pay can also mug things up in 15 to 20 days..
One Bite Franchise Business Video
What is the One Bite Franchise Cost?
The initial investment for a One Bite franchise was 15,00,000 Lakh Rupees. However, if you choose the Kiosk or Takeaway model, the franchise cost can be minimal (10.5 lakh rupees).

The franchise agreement is for five years.

A 120-1000 square foot area is required to open the franchise.

2% royalty will be paid on all sales.

If monthly sales are less than 3 lakhs, no royalty will be levied.

The raw material cost will be roughly 40% higher.

The company is offering a 51,000 rupee discount on the takeaway model and a 71,000 rupee discount on the restaurant model.
One Bite Franchise Licenses and Registrations Required
FSSAI Authorization Certificate
GST Registration
Land Documents/Agreements, as well as the shop
A bank statement for the previous six months
Electricity Bill
Ration Card
Qualification Certificate
Photograph, Email Id, Mobile Number, Current A/C, and cancel Cheque
NOC for a shop agreement/sale document
what is profit margin for the One Bite Franchise?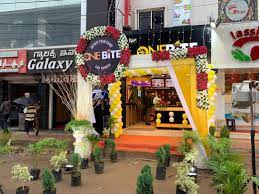 The profit margin for the One Bite Franchise is 20%. However, sales may be minimal due to a lack of local marketing and branding in the early days.
Along with food quality and service, location is critical in determining a franchise's success rate.
The area should have a lot of foot traffic. It should be in the area's primary market. The best choice is to go to a corner store.
You can open an outlet near colleges, corporations, shopping malls, or other locations where people enjoy quick food.
The F&B manager will be on the Franchisor's payroll for 5 days of the Outlet's opening.
Head Chef for 30 Days: Will be paid by the franchisee.
Kitchen Supervisor for 45 days: Will be paid by the franchisee.
(The Franchisee shall be responsible for all travel related to our employees' opening of the Outlet.)
2. The company will cover all travel expenses for the BD and Operations heads.
Traveling BD head: For property inspection and approval.
Traveling with the Operation Head: To inspect the outlet design work with the Builder, Electrician, Plumber, and Masson.
Benefits of One Bite Franchise Fees:
We use the same vendor who supplies spices to many well-known international brands.
One Bite Franchise Fees Include the Franchisor's promotional activities at the Outlet's opening, such as Paid Promotions on All Social Platforms for 12 to 15 days before and after the Outlet's opening.
We attempt to add a new variety to our menu every quarter. Therefore making that dish available at every franchise outlet is covered by the benefits of franchise fees.
Franchise fees cover 3D design, menu design, opening design, graphics design, AutoCAD design, and the creation of promotional banners such as hoardings soon.
Franchise fees also cover all menu designs for annual festivals such as Dussehra, Holi, Diwali, Xmas, New Year, etc.
One Bite Franchise prices include relocation if you need to move the Outlet to a different site. If this happens, all of the drawings and 3D layouts will be required again, which will be done for free.
One bite franchise contact number
If you want to contact to take up a franchise from One bite, you can directly call at +918929060732
One bite franchise reviews
Compared to the One Bite brand name, we believe the initial outlay is reasonable. Because they win the price battle, the brand name is well-known. The franchise is customer-focused, with prices of 41 rupees for a burger and 61 rupees for a pizza.
The positive element is that they continue to add new food varieties in response to consumer requests. The good news is that royalties will not be paid until sales reach 3 lakh rupees.
The franchise provides excellent service. Also active and responsive is the franchise support crew. The interior is interesting to look at, even though it was costly.
However, the meal appears to be extremely tasty, according to reviews on food websites and reviews on Google. However, the franchise has no one-of-a-kind selling point. There is no knowledge of a specific product.
The franchise will provide the chefs, and the franchisor will cover their expenses. Therefore they are concerned about the quality of their meals.
From our point of view, the franchise is recommended because it meets all of the criteria.
How to apply for the One bite franchise
Open the UR https://www.onebite.co.in
There will be a contact information form and one franchise inquiry available on this page.
Complete the contact information form by providing all essential information, such as name, address, phone number, email address, and fax number.
You must also give thorough business information in the franchise question form.
The list covers the store's location, available space, and investment amount.
Once all of the information has been entered correctly, submit the contact information form and one franchise query.
If you are selected, a representative will contact you to walk you through the rest of the process, including signing the agreement and starting your Onebite Franchise Store.
One Bite was created to offer every consumer who does not want to compromise on their personal preferences.