Introduction
Starting a new business does consume time and effort. But, what if you started a franchise of a famous business? This will make both your franchise and you earn as you have never thought before. The franchise business has grown rapidly in the world market. People with land have opened up franchises for various businesses.
On the other hand, every business aims to expand. If you are willing to open up a franchise for any business they are always ready to help you. Here, we mean to say that, there is minimal chance of rejection when you appeal for a franchise for any business. Yes, you do need an enormous budget, capital, and land to open up a franchise for any famous business.
In the same way, one of the most famous franchises in India comes under the courier & delivery business. Further, in this article, we will be speaking of one of the best transportation franchises that are Roadex.
Want to Grow Your Business - Contact Us
What is Roadex Franchise?
For over 40 years, Roadex or RoadEx India has been serving customers. We can surely rely on their products and services as they have gained huge experience from customers. RoadEx is currently India's one of the top logistics and Transport companies. They have a long list of clients not only in India but, on an international level as well.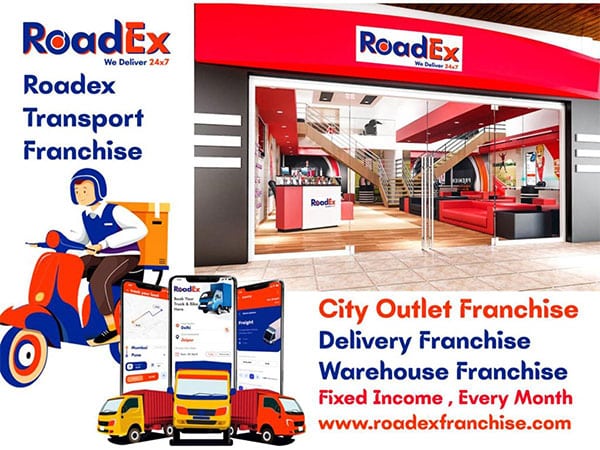 Interestingly, Roadex is also India's fastest-growing online transport business. Roadex franchise allows you to store all sorts of products that need to be delivered. Now, this logistics and transportation company has six different franchise models which we will discuss further in the article.
Additionally, one must know that the total investment required will depend on what model you have selected. On the other hand, the land required, eligibility criteria, and other things will depend on what model you choose.
Why Roadex Franchise?
We could give you various reasons why Roadex franchise is the best logistics and transportation business. The business itself has made us believe that they are one of the most reliable and convenient delivery services in our country.
The mission of Roadex is to value its clients and customers and to deliver innovative and tailor-made solutions. Roadex believes the quality of its services must never decline as it must be efficient and effective.
Now, some of the reasons why you must go for a Roadex franchise are the following:-
Reputable clients- For the past forty years, this transportation business has gained the trust of many reputable clients. This is because they have always served them better no matter what.
Responsibility- Many transportations and logistics companies do not take responsibility if products get damaged or not delivered. But, that is not the case with Roadex. This company ensures all the products are delivered correctly and to the right person or business entity.
Full truckload transportation services- Roadex is one of the transportation companies to offer full truck load transportation services.
On-time delivery- The concerned department ensures that all the products are delivered on time at the expected time was given.
Highly dedicated team and experts- In any department, you choose all of them are highly trained and have good knowledge related to the field.
These are some of the genuine reasons why one must go for a Roadex franchise in India.
Roadex Franchise Cost
Roadex has six different franchise models for the public. Each of them has a different investment cost. The better you choose the highest you need to invest in that particular franchise.
Interestingly, the average investment cost to tie up with Roadex is between Rs 10000 to Rs 2 crore. Yes, you heard it right you can become a part of Roadex starting from Rs 10000 only. If you are willing to become a part of Roadex franchise then visit their official website and choose what part you want to become.
Roadex Franchise Business Model
Ever since its establishment way back in 1981 in Delhi, the business has expanded a lot. As of now, this transportation and logistics have opened up 10-20 outlets all over India. Other than that, the company has six different franchise models and they are the following:-
Investment model- In this model, you do not need to open a franchise. To become a part of Roadex in this model you just need to give a security deposit of Rs 50 lakhs. This model is more like investing in a mutual fund, you get a return after a month or year from the company.
Warehouse Franchise- This franchise model requires land and a whopping investing amount of Rs 50 lakhs. Other than that, you need to have proper space for parking vehicles, warehousing, loading, unloading, shorting, and dispatching to other franchises.
City franchise- In this franchise, you need to have a total investment of Rs 20 lakhs. All the bookings, delivery, and full truck delivery will be done from here.
Outlet Franchise- Here, you need to have a total investment of Rs 15 lakhs and not more than that. All the deliveries in this franchise model will be done on intracity only.
Roadex Transport Franchise- This model focus only on the transport part of the business. Still, you need to have a minimum of Rs 20 lakhs as a Security deposit. Other than that, you must have a loading and unloading area.
Roadex Delivery Partner- You can become a Roadex delivery partner by giving Rs 1 lakh as a security deposit. You can attach your vehicles with the company and start growing your business.
Roadex Franchise Profit Margin
On average, for any transportation and logistics franchise, the profit margin is 8-9%. Starting any transportation and logistics franchise will give you small time-sensitive shipments. They do not focus on bulk delivery but instead on small and door-to-door deliveries.
You surely can become a partner with Roadex as an investor but, the profit margin will be less. Other than that, all the other franchise models will give you a profit margin of at least 10-25% and not less than that.
Roadex Franchise Area Requirement
The area required to open a Roadex franchise depends on the business model you choose. If you are willing to become an investor then no area is required. But, all the other models require an area for storage, loading, and unloading.
Still, the maximum area required to open any franchise model of Roadex is between 1000-25000 square feet. Additionally, before opening a Roadex franchise these are the following are checked by the company:
The location selected will be verified by the company
The franchisee owner must be capable of handling the daily operation
The individual must be financially sound and must be able to handle working capital or cash flows
Always inform the parent company if a product is delivered and needs to be delivered and keep them safe from external vendors.
Roadex Franchise Review
Roadex has always maintained its relationship with clients and customers. This is one of the reasons why the company has become one of the fastest-growing transportation and courier companies in India. Within these years, the company has opened up more than 40 franchises in India. All of them are running quite well even during natural calamities.
You expect an enormous return on investment of 20% which no other business offers. Other than that, the payback period of your capital is completed within 10-11 months. So, the business has been running successfully always and customers are and will always be satisfied and happy.
How to start Roadex Franchise?
Starting any franchise in today's world has become online. All the processes have become smooth, easier, and hassle-free. In the same way, if you are willing to apply for a Roadex franchise then visit their official website: www.roadex-logistics.com.
Immediately when you visit this website you will notice the "Apply for Franchise" option in the middle. Just click on it and it will lead you to a different webpage. The webpage will include all the details that you need to fill in correctly.
Some details you need to fill in are name, phone number, email ID, city, state, and message. Additionally, on the left-hand side, you will get all the details related to the franchise you are willing to open. After you have submitted all the details the concerned team will contact you shortly.
Roadex Franchise Contact Details
The company believes that you talk to them in person. This is one of the best ways to have a good bond with the company. Still, the contact details are given below:-
Phone no- +91 9873700790
Address- Roadex Franchise Office, A Block Road, DDA Shed, Block A, Okhla Phase II, Okhla Industrial Estate, New Delhi, Delhi, India.
Open hours- 09.00 AM – 05.00 PM