24 Seven is an Indian 24-hour convenience store chain. Founded by Samir Modi back in the year 2005, 24 Seven was one of the first 24-hour retail store chains in the country. The company was marketed similarly as the only retail chain as a one-stop shop for daily and general necessities. Whether it was day or night customers can always find the best global brands on the shelves of the 24 Seven stores to meet their daily needs and necessities.
Table of Contents
24 Seven stores have always kept fresh groceries, snack items, a wide range of beverages, personal care and men's grooming products and many more products which can be purchased anytime of the day. However, in addition to the wide range of products customers can utilize a plethora of in-house services. Right from instant photo development, bill payments, mobile phone recharges to purchasing event tickets is offered by the company.
Tabular Overview
| | |
| --- | --- |
| Company Name | 24 Seven |
| Founder | Samir Modi |
| Founded in | 2005 |
| Industry | Convenience store |
| Official website | https://www.24-seven.in/ |
| Head office | New Delhi |
| Revenue earned (FY 2021-22) | 14% to INR 405 crore |
| Parent company/organization | Godfrey Phillips India |
24 Seven Franchise
Franchise Requirement
The company offers its franchise to interested entrepreneurs and partners. However, there are some eligibility requirements that an interested entrepreneur would have to fulfill before opening up a franchise. So far, the expansion of the company has been fascinating as they have got its stores at over 120 locations across Delhi and NCR only. They have plans to expand their business all across the country within the upcoming years.
Want to Grow Your Business - Contact Us
The requirements of its franchise are mentioned below.
Area: around 1000 sq ft
Preferred location of the unit franchise: residential area or on main road
Investment cost: around INR 30 lacs to 50 lacs (franchise fees, company stock, interior and furniture, billing counter, AC, CCTV setup, WiFi, etc are included)
Manpower required: 3-4 people
Area Requirement to start a 247 Franchise
The minimum area required to open up a 24 Seven franchise is around 1000 sq ft. Since the company have products of different kinds the floor area should be spacious to stock everything up and showcase the same for sale. However, it should also be spacious enough to not only keep arranged all the required furniture setup but also for customers to move around freely without being congested.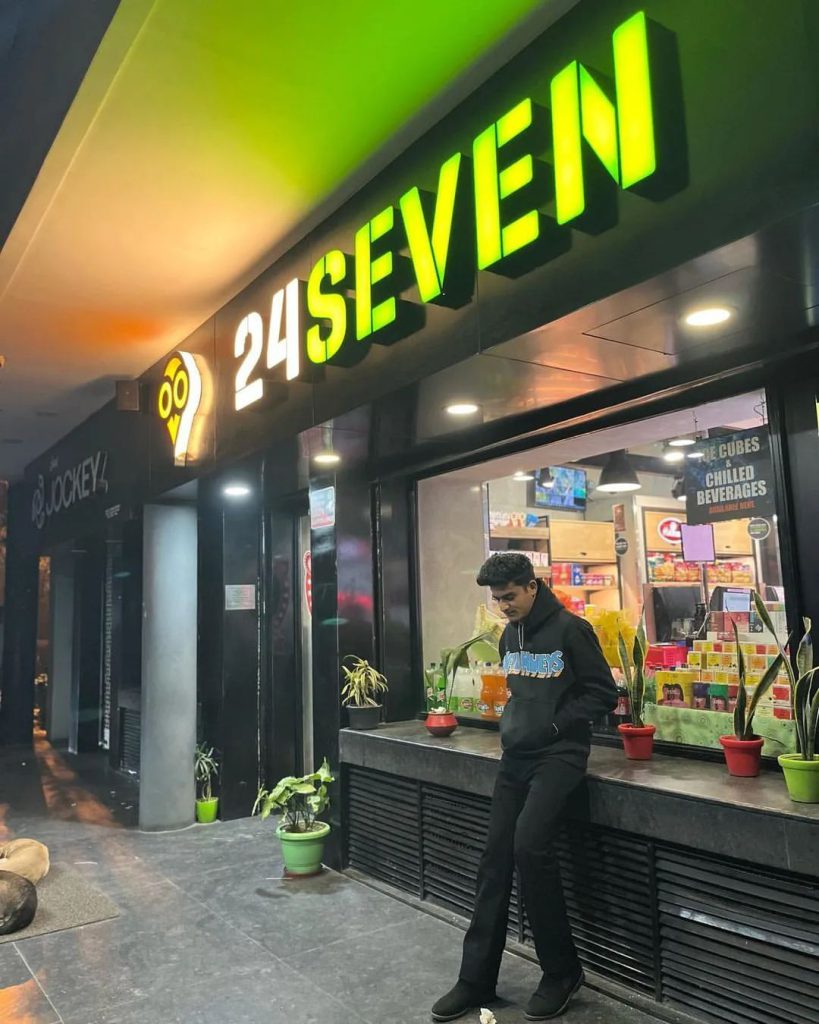 24 Seven has already got its stores in more than 120 locations only in Delhi and NCR combined and it can be assumed that the company has already got a huge customer base. Therefore, in case you decide to open up its franchise you will have to look for a good location as well so that your outlet can attract the maximum crowd.
24 Seven Franchise Cost
The investment cost is around INR 30 lacs to INR 50 lacs. It is quite a huge investment as there are various factors that would put an effect on the investment like the area size and the location. Major cities will have more investment and stores like 24 Seven are well-reputed companies so that it gets the required attraction from the crowd.
The store should also have proper furniture and all required equipments for daily business activities like billing counter, Air conditioners, manpower, cleaning staff, and such which is costly. Entrepreneurs would also have to pay franchise fee which is included in the investment range (INR 30 lacs to 50 lacs). 
24 Seven Franchise Profit Margin
24 Seven is a huge brand with a large customer base. The business model is a strong one as it is India's first 24 hour convenient store. The company offers 30-50% profit margin. On the other hand, being open for 24 hours a day a 24 Seven franchise store could have the best earning as people can purchase any product of their choice anytime they like. Depending on the location you are planning to open the profit margin could vary.
How To Apply for 24 Seven Franchise?
The application process of 24 Seven franchise happens online. The process of its application is simple and quick. The highlights of how to apply for the franchise is as mentioned below.
First, click on your browser and visit the official website of the company
As soon as you are in the website you might be able to locate a option button which should be located at the top right corner
Once you click on that you will see the option 'Contact Us'.
After clicking on 'Contact Us' you will see a new page popping up.
On this page you will see the contact number, company address, and an email ID
You can either contact the company by either calling them or visiting the head office or even mail them about franchise inquiry. 
FAQ
Q. Is it profitable?
Ans: A 24 Seven franchise could be a profitable business depending on the location where you wish to open. The footfall should be maximum wherever you are looking to open the store. Yes, a 24 Seven franchise is a profitable business.