About Brandwala
Brandwala is a 365 days discount store that offers heavy discounts over national and international brands in apparel and footwear. This company was founded by Brandwala Private Limited. This company began back in 2019 and is a Private Limited Indian Non-Government Company. The headquarters of this company is located in Mumbai, Maharashtra, India.
The main motive of Brandwala is to respect customers' time and solve their challenging problems. The company believes in offering fair and competitive offers on apparel and footwear products. The introduction of Brandwala into the Indian market has made expensive clothing and footwear access easier.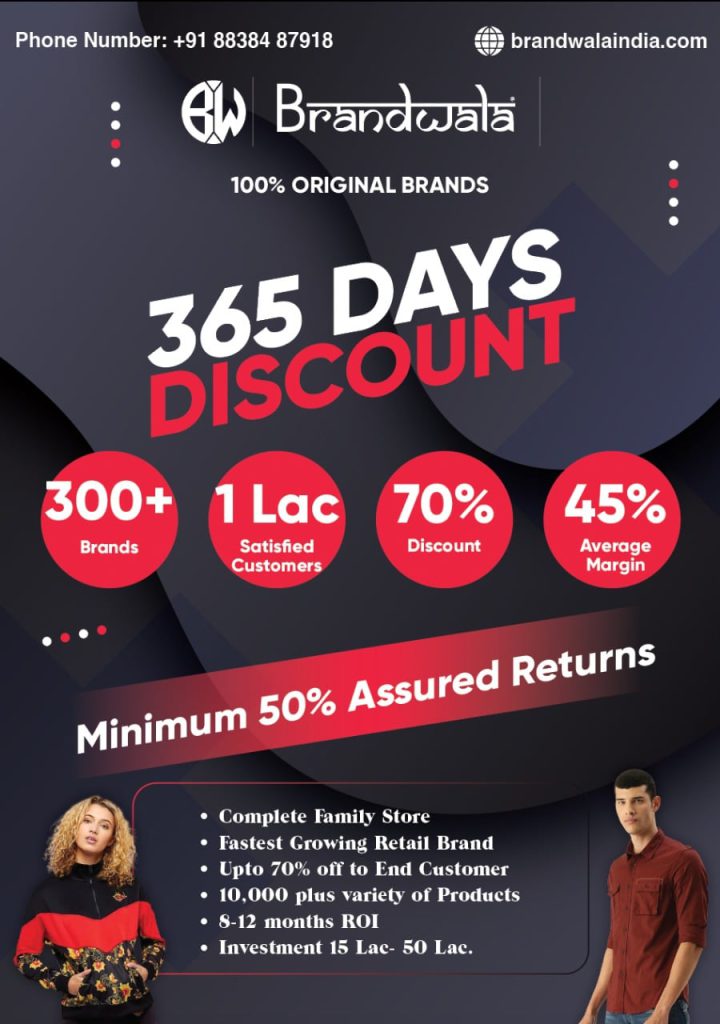 How Brandwala is Different than Others?
Brandwala is a highly unique company that offers coupons and offers to customers. There are various reasons why Brandwala is different than any other in the Indian market today. Here are some of the reasons why someone would prefer products from Brandwala rather than any other companies in the market:-
Want to Grow Your Business - Contact Us
Brandwala is indulged in the liquidation of stock-lot business and they are one of the major liquidators in India.
The company has onboarded all major and popular national and international brands to their store
Brandwala is a company that helps small-scale entrepreneurs to grow and start their businesses. Yes, the company helps people to utilize their land properly and earn a good profit out of it by doing business
Today, Brandwala has 300+ distributors who help all the outlets present across the country to loan in and out stocks
Brandwala not only have tie-ups with brands but, they have tie-ups with major manufacturers as well who help the company in inventory procurement
Brandwala have a strong presence in the market as a brand stockist and super stockist
The USP of Brandwala is that they offer a minimum of 50-70% of discount to customers. Interestingly, even the franchisee owners have a margin of 30-60%.
These are some of the reasons why Brandwala is different than other competitors in the Indian market today.
Brandwala Franchise
Brandwala is expanding in the Indian market today only because of its franchise model. The company is actively giving out franchises to the eligible ones. Due to its interesting tie-ups and product quality, the company has gained an enormous customer base today.
Today, Brandwala deals with 250+ brands and you get all the products under one roof. As to some sources, Brandwala has already opened up stores in major cities across the country.
How to get Brandwala Franchise?
Expanding through the franchise model is one of the primary businesses of Brandwala. The company might have tie-ups with many national and international brands but, it must make its presence using the franchise business model only. So, here are the steps of how one can get a Brandwala franchise in India:-
Make sure to visit the official website of the company or just click on this link https://brandwalaindia.com/
After you have clicked on this link it will lead you to the official webpage of Brandwala
You may click on the "Need Franchise" option present on the above tabs
After you click on that you will see lots of information related to the franchise you are willing to open but, there is no application form on that page
So you will need to click on "Have Project" tab on the right side of the tab
After you click on that it will lead you to a different "Contacts" webpage
Now when you have visited the page you will need to scroll down you can either write an email to the officials or directly call them of why you are contacting them
If you scroll more down you will see some information being asked make sure to fill them and click on the "Submit" button
After you have clicked on the submit button the concerned team or individual will contact you within 24-48 hours.
Is Brandwala Franchise Profitable?
Brandwala is surely a profitable business franchise. It is because they have created a good customer base where the daily sales will never stop. Now, the profit is directly linked to the daily sales that a franchise makes. The more sales a franchise makes the better is for them to earn a good profit margin.
Moreover, the Brandwala franchise is surely a profitable business in India. Within Rs 15 lakhs you can open a Brandwala franchise and get the best of products from major brands around the globe. The profit margin ranges between 30-60% of any Brandwala franchise.
Brandwala Franchise Contact Details
Here are the official contact details of the Brandwala franchise in India:-
Email ID- brandwalahouse@gmail.com
city – Mumbai
Email ID- brandwalaindiaofficial.com
Phone number- +91 8838487918
Address- S-12 Azad Nagar, Near Central Academy School, Behind Ram Dham Bhilwara, Rajasthan.