The automobile industry already hit a great demand in the Indian market several decades ago. Now, with the introduction of electric vehicles (EVs), things are taking a new turn in the automobile and as well as two-wheeler industry. Several leading two-wheeler manufacturers are taking a new step thinking about the future where they are introducing electronic bikes instead of fuel ones. Some brands are even coming up with a hybrid model where the vehicle can run both on fuel version and as well as electric. 
In a country like India development took place for introducing electric bikes so that considering the fact that fuel charges are rising each day it becomes easy on the pocket for most consumers. There are companies that are also offering their dealership program to interested entrepreneurs to be a part of the fast-growing electronic vehicle industry. Therefore, if you find it suitable for your next business plan then you can opt for an electric bike dealership in India and run a successful business. Mentioned below are some of the top 5 electric bike dealerships to own in India in 2023.
Top 5 Electric Bike Dealership To Own In India In 2023
Want to Grow Your Business - Contact Us
Table of Contents
Hero Electric Dealership
Hero Motor Corporation is a name that only a handful will not know about because it is one of the biggest bike and e-bike manufacturing companies in India. It was in the year 1956 when the company was established and later as years went by the brand expanded rapidly in bicycles, motorcycles, and healthcare among others. Soon it became the most renowned and one of the most trusted names in the country and also in other parts of the world. Hero Electric is one of the largest and the first manufacturer of electric two-wheelers. 
| | |
| --- | --- |
| Company name | Hero Electric |
| Founded in | 1956 |
| Founders | Late Mr Dayanand Munjal |
| Head office | Gurugram, Haryana |
| Total investment required | INR 60 lacs (approx) |
| Top selling models | Hero Electric Optima, Hero Electric NYX |
| Profit margin | 12-20% |
| Key factors why you should go for it | Strong brand presence Strong customer base Competitive price products |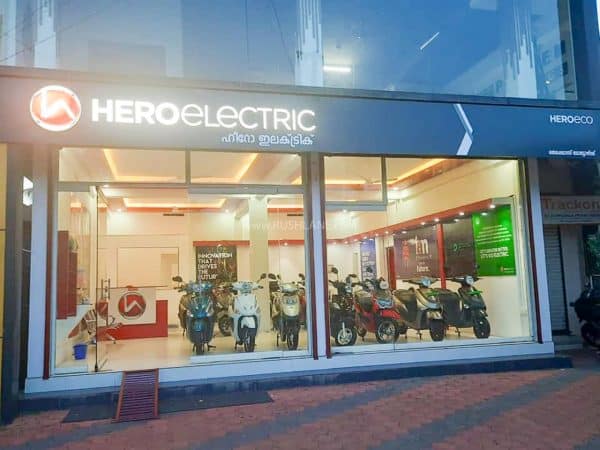 There are various reasons why you can go for the Hero Electric franchise considering the fact that it will require minimum marketing. The products that the company launches will be trusted by most consumers as the brand has developed such goodwill over the years. But, without any doubt, the company is still making developments and is looking to bring more changes in its vehicles in the upcoming years so that consumers receive the maximum utilization out of it. 
Joy E-Bike (Wardwizard Innovations)
Wardwizard Innovations and Mobility Limited is an automobile company that launched Joy E-Bike. The motive of launching the company was to bring something new to the market, which could also help fight climate change. The company is new and has got a handful of new and trendy models all ready to make a positive impact on the future. The brand claims that its products manufacture the ideal two-wheeler for daily use that are not only expensive but require very little maintenance as well. 
| | |
| --- | --- |
| Company name | Joy E-Bike (part of Wardwizard Innovations and Mobility Ltd) |
| Founded in | NA |
| Founders | Keval Patel |
| Headquarters | Vadodara, Gujarat |
| Investment required | INR 30 lacs to INR 50 lacs |
| Top selling models | Joy Mihos, Rockefeller, E-rik |
| Profit margin | 10-12% (net commission) |
| Key factors why you should go for it | Newly launched products Environment friendly products Backed by Wardwizard Innovations |
Joy E-Bike is another competitive electric bike manufacturer in the Indian market that is slowly starting to gain major attraction from the crowd. The brand has brought innovative solutions to its charging solutions where the company claims that the battery gets charged within 4 to 5 hours which is quite impressive. If you are looking to be a part of a fast-growing company then you can consider taking the Joy E-Bike franchise. 
Pure EV
| | |
| --- | --- |
| Company name | Pure EV |
| Founded in | 2015 |
| Founders | Amogh Ramakant Nalawade, Nishanth Dongari, Rohit Vadera, Sumit Jadhav |
| Headquarters | Hyderabad |
| Investment required | INR 50 lacs to INR 1 crore |
| Top selling models | Ecodryft, Etrance Neo, Etryst 350 |
| Profit margin | 10-12% |
| Key factors why you should go for it | Newly launched brand with attracting models Trustworthy brand nameExports its products to Nepal and Bhutan |
Pure EV is one of the Indian companies that manufacture electric scooters and bikes for consumers. The name PURE is an acronym that stands for Power Using Renewable Energy. The company has always focused on enabling the transition to sustainable energy resources ever since the beginning. The company is making rapid progress to bring in new and innovative products into the Indian market which gives interested entrepreneurs a strong reason to go for its dealership. 
Pure EV is yet another brand that is proving to be a solid competitor when it comes to electric bike manufacturing companies. The brand has been so far able to introduce premium quality electric two-wheelers at a competitive price which is one strong reason to go for its franchise option. Based in Hyderabad the company is already starting to export its products to neighbouring countries like Nepal and Bhutan. 
KLB Komaki Pvt Ltd
| | |
| --- | --- |
| Company name | KLB Komaki Pvt Ltd |
| Founded in | 1987 |
| Founders | Rajender Pal Malhotra and Gunjan Malhotra |
| Headquarters | New Delhi |
| Investment required | INR 25 lacs to INR 50 lacs |
| Top selling models | XGT KM |
| Profit margin | NA |
| Key factors why you should go for it | Reliable and well-equipped manufacturing companyWide range of electric vehicles ranging from E-rickshaw, E-scooty, and E-loader vehicles is light and trendy |
The company KLB Komaki ventured into the electric vehicle business back in the year 2016. Now, with less than a decade year of business, the brand has established a strong customer base throughout the country. The company claims that they are one of the most reliable and well-equipped manufacturers of electric vehicles with the best services at nominal prices. The vehicles that are manufactured by the company are of the highest quality without compromising the quality of the spare parts and all other things included. 
KLB Komaki is an Indian non-government company that has been in the Indian market for more than 35 years. People who have brought its products were quite satisfied with it as they felt that it gave them a comfortable ride and the experience was also good enough. Many people would want a scooter that gives them an ideal mileage and Komaki was one of the brands that was able to deliver such features to their ultimate customers. 
Ather
| | |
| --- | --- |
| Company name | Ather |
| Founded in | 2013 |
| Founders | Tarun Mehta, Swapnil Jain |
| Headquarters | Bangalore, Karnataka |
| Investment required | INR 1 crore to INR 3 crore |
| Top selling models | Ather 450 X, Ather 450 Plus |
| Profit margin | 8-12% |
| Key factors why you should go for it | Strong customer base effective marketing and branding Offers the best and most comfortable scooters |
Ather is a name that has always been in the trend when it comes to electric bikes and scooters. The products that the company manufactures can be suited for all genders and even for children as well. The brand has reached more than a thousand charging stations in the country and has been made convenient for consumers. The products of the company offer a mileage of 110 in a single charge which in itself is quite impressive and is able to stand out from other brands and companies. 
Ather offers the best-in-class electric scooters in India and has already set up more than 1000 charging stations across India which is more than any other brand. The company has done effective marketing over the years through television and has built a strong customer base. If you are looking to open up an electric scooter dealership then there will be no better option than opening an Ather franchise.