The Emergence of the FirstCry Franchise
It has been estimated that by the year 2040 arrives about 95% of all purchases that every consumer makes will be done through e-commercial platforms. E-commercial giants like Amazon had already forecasted the future of e-commercial purchasing as it had more benefits to offer to regular customers.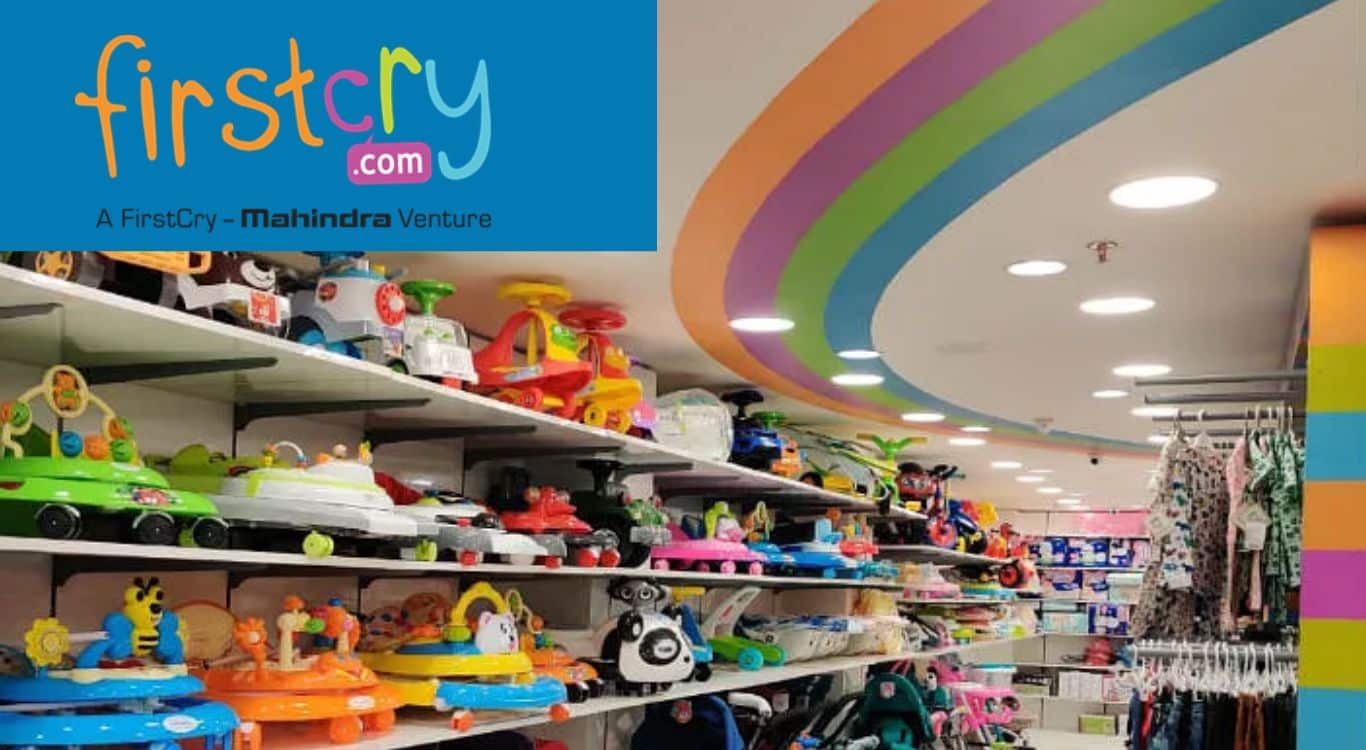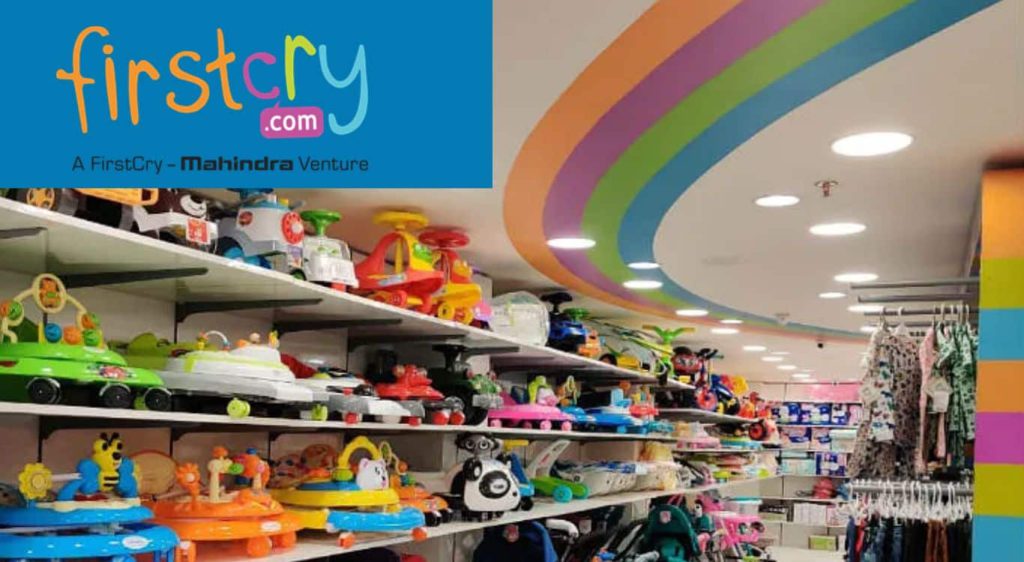 The introduction of e-commerce was a turning point for businesses all across the globe because as of today there will be only a handful of companies that do not have a presence in the online market.
Table of Contents
The e-commercial industry is becoming more organized day by day as new software is being developed to bring more features in it which ultimately results in positive user interaction. Several companies are taking the opportunity to function and grow their business completely online and FirstCry is one among them which is an Indian e-commerce company headquartered in Pune. FirstCry franchise is one other opportunity that many entrepreneurs can consider in the fast-moving and growing online market.
Want to Grow Your Business - Contact Us
FirstCry Franchise Application Process
FirstCry franchise application process is completely online based. The process is quite simple and easy as it requires the applicant to fill out only an inquiry form with some basic details in it. It is on the official website of the company where the application/inquiry form about its franchise is given. After filling out the form with the required details correctly at the end of the form you will be asked to describe yourself.
This section seems to be quite crucial from the company's point of view because they want to get an idea about the type of person you are through the description that you submit. Therefore, it is important to give correct and accurate details here so that later the company does not feel that you are an incapable candidate. To make things simpler follow the steps mentioned below to apply for FirstCry Franchise Application Form.
First, visit the website of the company (www.firstcry.com/franchise)
Once you have entered in the website you need to scroll down a little
You will then be able to view the 'Franchisee Enquiry Form'
Fill out the form by providing correct details and then click on 'Submit'
Once you have submitted you will be receiving a callback or feedback on the email ID that you have provided. 
Initial Requirements to start a FirstCry Franchise
FirstCry may have a strong brand presence online but they have the same strong presence offline as well. Without any question, it is one of those go-to brands for new parents to purchase products for their kid(s). However, the company do have certain eligibility criteria and requirements to be met by applicants and entrepreneurs who wish to start its franchise.
Some basic requirements include factors like meeting the eligibility criteria, financial investment (FirstCry franchise cost), land or area space requirement and other such kinds of things. 
Let us have a look at the eligibility criteria for getting its franchise:
Applicants must have good knowledge in management field and would be a plus point if he/she has business ownership experience
A minimum area requirement of 1000-2000 sq ft is required at a prime location to start setting up a FirstCry store
The property must be located somewhere there is maximum footfall and since it is a business venture, publicity of the outlet is very crucial
Staff that are hired by the franchise owner must be extremely professional and must receive proper training from FirstCry's franchise staff training
Candidates must learn to adapt themselves to the changing market and must be able to react quickly for the betterment of the business in case of any sudden political, economical, or environmental changes.
The above-mentioned points may not be required by the company at all but it is important that applicants must be the best to apply for their franchise. Considering the goodwill and the customer base that FirstCry has built over the years it is very much likely that they will not give out its franchise to anyone without proper background check.
How much investment is required for a FirstCry Franchise?
FirstCry is offering two different types of franchises where one is its opening of store where the store would be displaying and selling all products related and are necessary for small babies and kids. On the other hand, the other type of franchise is opening a preschool business of FirstCry.
Yes, in this type of business, you can get all the required help from the company to start your own preschool business under the name of FirstCry. So, depending upon the type of franchise you want to start the total investment would vary. 
However, on the other hand, it is not just the type of business but also the area and location would determine how much investment would be required. Say suppose you already have a good location that is owned by you then the cost would be much less than purchasing a new piece of land for opening up the business. You can also target malls to open up its franchise store where you would have to incur monthly rents.
The total investment would be around INR 20 lacs to INR 30 lacs. Yes, this is a huge investment amount because the store would be a huge one. You will have to do the store's interiors to make it look more attractive for customers which is costly. Other things like purchasing huge stock of its products which is necessary to retain customers at the store or else they will be shifting to other brands. 
FirstCry Franchise Business Model
FirstCry is a business that operates on a hybrid business model where its products are sold actively both on its online platform and as well as from its physical outlets. FirstCry physical outlets are mostly seen opened up in shopping malls where they receive the maximum footfall from the customers and it is also one of those locations where maximum visibility and recognition is received.
FirstCry actively works on its online platform to bring in new offers for customers and when it comes to offline stores then the company has got more than 400 outlets in India where more than 350 are franchise stores. 
The brand has expanded its products to not just clothing but all other necessary items that a baby needs after its birth for its daily care routine. The official website of the company provides all types of options for parents to have a look at. In simple words, it is a one-stop destination for parents looking to purchase baby-care products and other related products in one place.
When it comes to talking about its business model then the brand had started an innovative initiative where they distribute around 70,000 FirstCry boxes to parents each month. It is done as a sign to congratulate the new parents on the birth of their child. The box contains all necessary baby care products like diapers, baby lotion, baby oil and such. 
Support and Training provided to a FirstCry Franchise
FirstCry makes sure that its franchise owners have got the required knowledge to manage and run the business of its outlet. Both the franchise owner and as well as the staff members are provided the required amount of training after setting up the franchise outlet.
The training is necessary because it will not only help understand the business and how it is managed but will also help work on a safe environment. It is important that the staff members know about handling customers professionally during work. 
However, the company also offers its support when it comes to technical-related support because it is important that the billing counter have a desktop with an active internet connection. The brand will also provide its support to the franchise owner when it comes to using its software and online web platform for online orders and other such kinds of things. 
The company also offers its support to interested entrepreneurs to choose the right location for the outlet. The location is one of the most crucial factors for the business to earn maximum profits and in case you are inexperienced then not to worry because the company has got your back.
Designing and setting up the shop interior is another support that the brand offers which only makes less burden from its franchise owner's head. Lastly, the brand offers marketing support which will solely be responsible for attracting customers to your location. 
Benefits Offered to a FirstCry Franchise
There are many benefits that a FirstCry franchise owner will receive once they have completed setting up the business. First of all, FirstCry is a huge name in the market already as they have advertised and marketed its products on every media channel possible. Actor Amitabh Bachchan as its brand ambassador only boosts up its brand image in such a competitive market.
Franchise owners will receive high-profit margins from the sale of its products and the brand has kept in mind that they will always keep a win-win situation deal for the customers as well as for franchise owners. 
The brand offers complete guidance to the franchise owners which is one of the most important benefits of getting a FirstCry franchise. In case someone has got the investment amount then they can receive all the required support until the store is complete and ready for business. This includes support in technical assistance, marketing, interior designing, and offering training to staff and employees. 
Is FirstCry Franchise Profitable?
FirstCry's revenue earned for the FY 22 was a whopping amount of INR 2400 crore which was a revenue growth of around 49.8% from the previous year. The company has a strong financial structure already as it has got huge customer base already all across the country. The presence of its products online makes them only stronger where there is a lot of competition.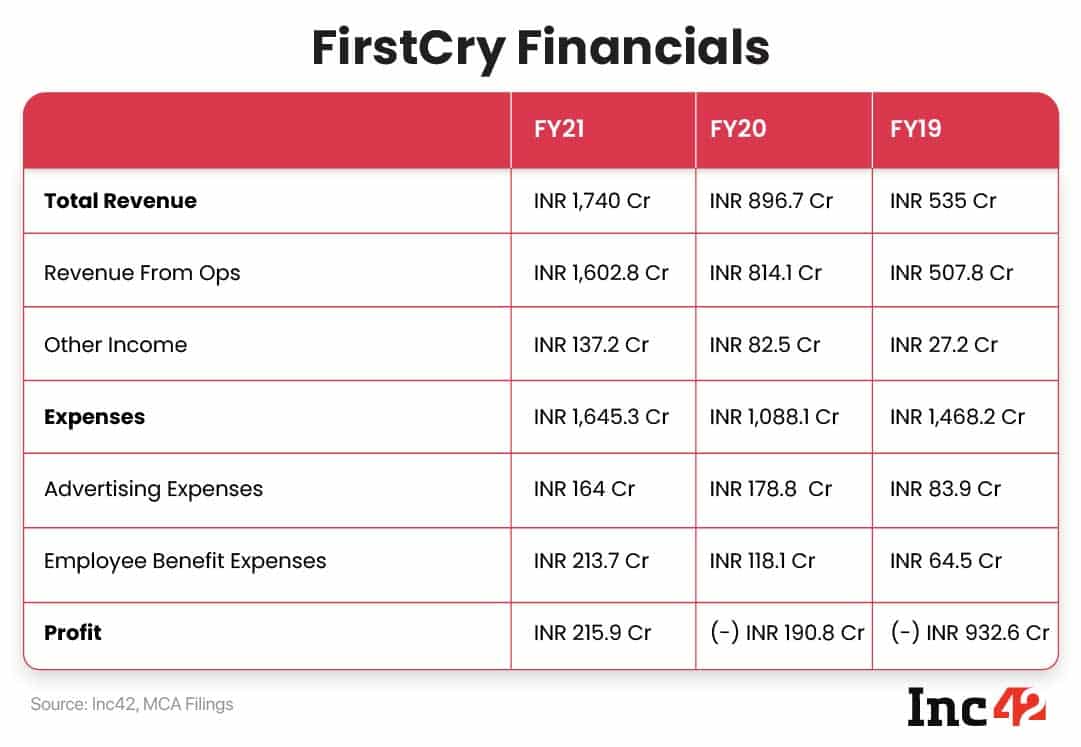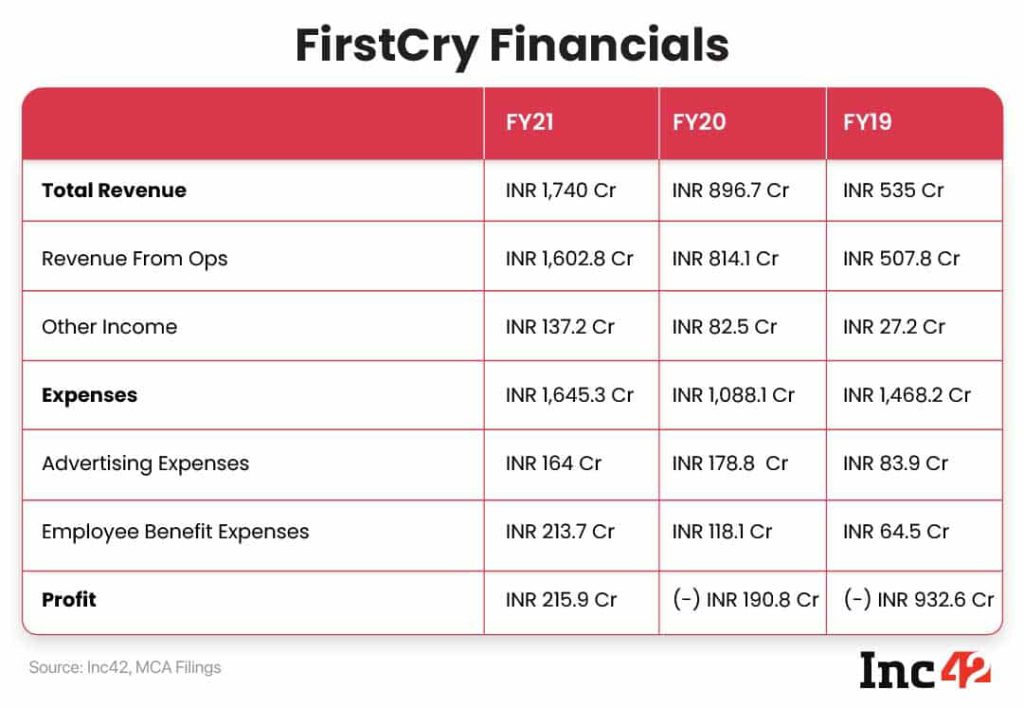 Therefore, a similar can be assumed if someone wishes to open up a franchise. Franchise owners would primarily focus on making sales by effective marketing and at the end of the day it is the profits and revenues earned that matter. 
A franchise owner of FirstCry can expect to earn a decent amount of revenue every month depending on factors like the volume of sales because it is the only thing how your outlet will make big bucks. Franchise owners can expect a gross profit margin of 30-35% and a net profit margin of 18-20%.
Say suppose your outlet is making a monthly sales of INR 12 lacs and after deducting the cost of stock which is around INR 7.8 lacs then your gross profit would be INR 4.2 lacs. After that, if you deduct daily expenses and monthly expenses like rent then you can expect a net profit of at least INR 2 lacs. 
FirstCry Franchise Market Analysis
FirstCry was started back in the year 2010 when online businesses and e-commerce platforms were just hitting the trend. The main intention of the brand was to introduce baby-care products to parents. In simple words, it became a one-stop solution for parents to purchase all the baby products it needs for their little one.
Being a hybrid business, FirstCry became one of the fastest-growing companies in this segment because they were able to identify a major problem that people were facing. 
The company kept making progress on their products and rolled out all categories of products for babies and kids. It is said that more than 200,000 products can be found in FirstCry both from Indian and as well as International brands. It was also one of the first companies in India to bring baby care products online for easy purchases by customers and get them delivered at home.
FirstCry has got two subsidiary brands namely Babyhug and Cutewalk which are clothing label and footwear labels respectively. According to reports revealed on Jan 2020, the brand has got more than 350 stores all across the country. 
Expansion Opportunities & Plans of Firstcry Company
FirstCry franchise owners do have the opportunity to grow their business only after their existing business is running smoothly. Therefore, it is important to choose the best location for your outlet and if you are unable to do so then you can seek help from company personnel as well.
FirstCry is itself a massive brand not just in terms of its customer base and goodwill but also when it comes to financial stability. The brand is earning crores of revenue every year and therefore, its franchise owners are also getting the opportunity to be a part of this huge profitability. 
Once your business has been set up completely and is doing good business then you can look to open another type of franchise of FirstCry as well which is its preschool business. Customers visiting your outlet can be advertised about your expansion beforehand which will be a positive upper hand to your next business. The other type of franchise that FirstCry is offering could be much cheaper than opening another store outlet. 
FirstCry Franchise Product Range
There are various product ranges/categories that FirstCry has introduced over the years. In the official website of the company, the brand has revealed all the categories that they have kept for customers for a one-stop solution for getting all the baby-care products they need. However, let us have a look at the product range of FirstCry below.
Boy fashion
Girl fashion
Footwear
Toys
Diapering
Gear
Feeding products
Bath
Nursery
Moms
Health
Boutiques
Customers also have the option to shop not just by their baby's gender but also by their age as well. A growing baby will be needing different-sized clothes, food, and other such kinds of things and FirstCry do have it all.
Various Marketing Strategies for FirstCry Franchise
In the initial stages of the company, FirstCry had run ordinary TV and printed campaigns. Soon, they realized that this method was a costly method and was not bringing any luck to their business and it is then they had to ensure that they could work on word-of-mouth strategy and internet advertising to promote their business.
FirstCry also worked innovatively to work on its website strategy. Being a hybrid business model they thought that online marketing would be the best way to reach out to a maximum number of customers at once with low cost and expenditure.
The website that they had designed was an attractive one as well where customers were receiving comprehensive product information, getting convenient payment options, stuffed with a wide range of products, and many such things. 
One other major marketing strategy that FirstCry had successfully planned out was getting Bollywood legend Amitabh Bachchan on board as their brand ambassador. This only boosted the brand image of the company which ultimately resulted in maximum sales of their products.  
FirstCry Franchise Target Audience
FirstCry was introduced in the market as a company that would be concerned with selling only baby-care products and other related items that are necessary items for a baby in daily life. However, it became a brand for parents to find the best baby care products for their little ones under one roof. The brand usually provides information on products, services, and resources to parents so that they can make the best choice for their children. 
The major consumer base of the company was around demographics ranging between 25-35 year-old males and females. Surprisingly, the female ratio was more than the male ratio by a slight percentage of 1%. The brand has got a strong presence among new parents as the company has worked on its marketing strategy where they send FirstCry boxes to new parents. 
FirstCry Franchise Competition Analysis
There are many competitors for Firstcry especially when the brand has been primarily recognized as an e-commerce platform. However, some of the strong competitors of FirstCry are:
Pampers
Johnsons
Huggies
Himalaya Baby Products
MamaEarth Baby Products
Mamy Poko
Amazon
Flipkart
FirstCry was one of the first brands in the market to have it all when it comes to baby care products. It has also tied up with brands to sell other branded products which are related to baby-care products. But, all in all, it was able to gain massive attention from the crowd as it used some innovative marketing strategies on social media and as well as on other platforms. 
FirstCry Franchise Success Stories
The story of FirstCry may have started back in the year 2010 but it was one of the co-founders Mr Supam Maheshwari who had noticed the issue of enormous requirements and delivery fissures in the Indian market. Since e-commercial platforms were just hitting the trend during that point in time FirstCry was one among those e-commercial businesses that executed its products to its targeted audience brilliantly. 
Mr. Supam Maheshwari used to purchase things for his kid when he used to go abroad for business trips which made him wonder why not do the same thing in his own country in India. It was then the birth of FirstCry took place and ever since then the company has been constantly working to bring innovative products and services to keep its customers interested. 
The brand also did excellent work when it came to effective marketing and advertising campaign through social media and other channels. The effective marketing created a type of preconceived notion among new parents and as well as about-to-be parents and made them purchase its products as soon as their baby was born. 
FirstCry Franchise Growth Potential
FirstCry's franchise growth potential would depend on various factors like the location and the volume of sales it is receiving every day. But, it can be assumed that the brand has got a strong presence in the country as it has done effective marketing throughout the years.
Since it is a hybrid model ever since the start it is possible that your outlet receives maximum orders online and thus increasing profit margin for your outlet. For this to happen more and more social media marketing is being conducted by the company where they are being able to bring successful business. 
All in all, a FirstCry franchise will have the potential to flourish in the market because of its strong customer base. Opening in a locality where it has got huge number of residential apartments then the franchise could attract huge number of consumers. Apart from that, the brand has got tied up with more than 6000 brands to offer products to the ultimate customers which gives a lot of option to the consumers to purchase from a FirstCry franchise outlet.