Introducing SharEat Franchise: All You Need to Know
India is a diversified country and therefore there are plenty of food dishes that one will ever come across. It would almost be impossible for a person to try out each and every traditional dish in their lives. But, one common street food that has become a favorite snack for Indians is Pani Puri.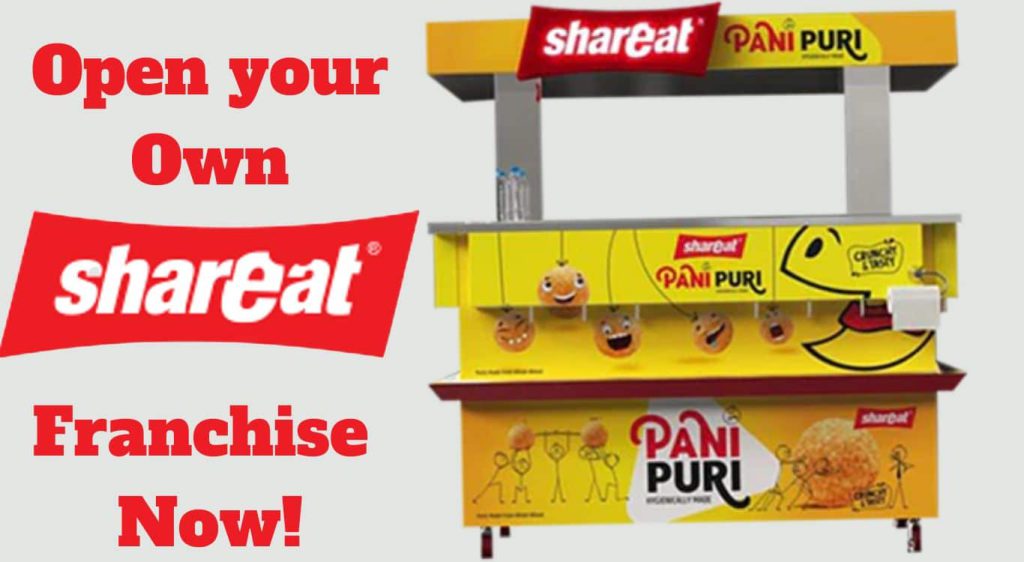 This food also goes by several other names like Golgappe, and Foochka. Stalls are setup by local vendors where they sell this snack to the customers. 
However, all in all if we could look closely only in the Pani Puri market today then it is quite an unorganized food item that is being sold to the customers directly. Therefore, this is where a company named SharEat decided to make their entry in the market.
Want to Grow Your Business - Contact Us
Now, one might think that what is the need for a company to make their entry into selling Pani Puris. Well, the founder of SharEat, Mr Jayesh Patel wanted to solve a crucial problem that the local vendors do not care about which was hygiene. 
The Story Behind SharEat: How the Company Started and Its Successes
India, renowned for its diversity of cultural influences that literally changes from state to state. But, it is one thing that unites all and is also celebrated across as the most beloved snack is Pani Puri. The story of SharEat started back in the year 2015. The company's intention to bring its flavorful Pani Puri snacks to the common public in India was to bring a whole new experience and taste for generations to come in the future.
The problem of unhygienic food was one of the problems that India's street food lovers still face today. Therefore, there are only a few companies that is trying to bring a change to this and one among them is SharEat because one of the member of SharEat had faced a serious problem with unhygienic food. The heartbreaking experience was a wake-up call, highlighting the need for street food that is both hygienic and delicious.
That's how, the idea for SharEat took its roots, igniting a passion to bring safe, delicious street food to everyone's plates. By the year 2016, the idea had evolved into a full-fledged food business and today A Innovative Food Products LLP is one of the top suppliers in the food industry offering a wide range of cereal, pellets, potato pellets, and pani puris.
A Quick Overview of SharEat Franchise: The Products, Requirements, and Investment
| | |
| --- | --- |
| Company name | SharEat Foods |
| Founded | 2016 |
| Founder | Mr Jayesh Patel |
| Headquarters | Ahmedabad, Gujarat |
| Official website | SharEat (shareatfoods.com) |
| Revenue earned FY 22 | INR 419 crore |
| Franchise option | Yes |
| Franchise total investment | INR 5 lacs |
| Area required | 50-100 sq ft |
| ROI | 12-15 months |
| Contact | SharEat (shareatfoods.com) |
Shareat Franchise
Exploring SharEat's Main Products and Sources of Revenue for Franchise Owners
SharEat's main products are the reasons a franchise owner could earn maximum profits. The brand had aimed to deliver quality street food items maintaining the hygiene of every food that are being sold by them.
Similarly, if you decide to open up a franchise you will be selling its most famous products like its Foochka which are basically ready-to-fry panipuri packets. However, the brand do sell other food items that have gained a strong attention from the people of the country. Some of them are as mentioned below. 
Pani Puri Mint (50 Puris + 1 Litre Mini Pani & 400 ml Mittha sachet)
Pani Puri Garlic (30 puris + 600 ml garlic pani & 200 ml Mittha pani sachet)
Pani Puri Hing Flavour Kit (30 puris + 600 ml Hing Pani & 200 ml Mittha sachet)
Minimos Pizza Season
Fryeat Shell Potato Pellets for Vrat/Fast
Mint Panipuri – Imli Panipuri – Minimos 475 gm
Fryeat Spiral Potato Pellets For Vrat/Fast (100 gm)
The above mentioned listed products from SharEat is one of the most popular products that a franchise owner can sell and earn maximum profit. The products packaging do mention the fact that the product has been made hygienic for consumption which is one of the main intentions for the brand to promote healthy snacking in every Indian family. The sources of revenue for a franchise could be the following.
Counter sales
Retail packs
Pop tubs
Fried Puri
Online food delivery
Catering orders
Top Reasons Why You Should Consider a SharEat Franchise
SharEat franchise is one of the most innovatively designed businesses that you can start today. The machine and the setup that you can setup after taking its franchise is itself one of the greatest attractions for the customers.
It is not just like a regular stall but a machine is installed where live panipuris are fried and is offered to the ultimate customer giving them freedom to choose the flavour of water that they wish to consume. However, all in all, the overall setup looks amazing and if it is possibly located at a prime location then it could make massive business every single day. 
Apart from these there are various reasons to go for SharEat franchise. This is because the brand offers complete support to their franchise owners at the initial stages and they also guarantee a ROI within 8-12 months after successfully running its franchise business. The brand offers support in the following ways.
Site selection and survey
Equipment selection and procurement
Menu planning
Training for new and existing staff
Operational and Financial audit
Marketing and branding support
Web or application support for online orders
POS support (time to time)
Billing software support (free for one year)
Understanding the Investment Required to Start a SharEat Franchise
The total investment required for a SharEat franchise would depend on the type of franchise that you wish to take. There are three kinds of franchise setup that is offered by the company and interested entrepreneurs can choose any of them and start their business. It is not exactly type of franchise but the company offers different machinery and equipments to a franchisee.
They are the 3 nozzle (without chiller), 3 nozzle (with chiller), 5 nozzle (with chiller), and 12 nozzle (with chiller). The investment and the area required for each type varies from one another. Therefore, it would be a wise option to either visit the official website and analyse which should be the best option for you or directly get in touch with the company personnel and get their recommendations. 
Investment required for 3 nozzles (without chiller): INR 1.5 lakhs 
Investment required for 3 nozzle (with chiller): INR 2 lakhs
Investment required for 5 nozzle (with chiller): INR 3.5 lakhs
Investment required for 12 nozzle (with chiller): INR 5 lakhs
Breakdown of SharEat Franchise Cost: Initial and Ongoing Fees
Jayesh Patel, the co-founder of A Innovative Food Products LLP has said that their 'made in India' machine was solely crafted to prepare hygienic, fresh and crunchy Panipuri. The company had successfully attempted their trial run of the machine and even received positive responses from the customers as well.
The company has even started offering its franchise outside India where they have got machines installed in Dubai as well. The company charges a franchise fee of INR 3.51 lakhs. 
The company also offers its support in various fields to its franchise owners. However, it would be a good option for the people interested to take its franchise to contact the company to get an exact figure about the total franchise cost. If you have enough investment around INR 5 lakhs to 10 lakhs at the maximum level then you can easily start its franchise at a preferred location. 
Key Requirements to Start a SharEat Franchise: Experience, Manpower, Area, and Location
Interested entrepreneurs must contact the company personnel to know all about the requirements to start a SharEat franchise. Even though the official website do not reveal about the eligibility criteria and the requirements but we can expect the following points while applying for its franchise.
Applicants must be at least 21 years old or more than that
Applicants must not have a criminal background
Applicants must be 10th+12th qualified and it would be advantage if they have knowledge and experience in business
Applicants must have all the required documents and it should up-to-date
Applicants must be ready with an investment of around INR 5 lakhs to INR 10 lakhs at the maximum level
Applicants must have a good location to start the franchise. The company also offers its support in this field.
Essential Documents You Need to Prepare for a SharEat Franchise Application
ID Proof documents (Aadhaar card, PAN Card, Voter card)
Address proof documents (Electricity bill, Ration Card,)
Passport size photographs
Food licence
Shop Licence
Trade Licence
Rent agreement (if any)
NOC
GST Number and GST Certificate
Bank account details
Cancelled cheque
Passbook
Lease agreement (if any)
Do You Need Prior Experience to Start a SharEat Franchise?
The official website of the company may not reveal the experience required to open or apply for its franchise but when you contact a company personnel directly then they may ask whether you are an experienced candidate or not.
Even though the company will offer its support after you have opened its franchise it would be an advantageous point if you could have experience related to business already. 
Evaluating the Required Manpower for a SharEat Franchise
The total manpower that you could need after setting up the franchise business would be maximum 2-3 people. One would be responsible for the kitchen work and the other would be responsible for handling and managing the customers. One extra person could work on the billing process in a computer. The company will offer its support when it comes to the training and development of existing or new employees. 
Understanding the Area Requirement for a SharEat Franchise
Area required for 3 nozzle (without chiller): 50 sq ft
Area required for 3 nozzle (with chiller): 50 sq ft
Area required for 5 nozzle (with chiller): 50 sq ft
Area required for 12 nozzle (with chiller): 75 to 100 sq ft
Choosing the Right Location for a SharEat Franchise: Tips and Considerations
The location where you decide to set up the panipuri franchise should be at a prime location. If you need help from the company then they may offer their help to you in selecting the best position for your business.
However, you should conduct market research and look for a place where there is the maximum amount of footfall. This will only increase the sales amount and therefore your business can earn maximum profits at the end of every month. 
Step-by-Step Guide on How to Apply for a SharEat Franchise
Interested entrepreneurs must visit the official website of the company and fill out the franchise enquiry form under the 'Franchise' tab. After filling out with the necessary details one would receive the response from the concerned team within a couple of days. Therefore, applicants would have to remain patient for a few days before they receive a response from the team.
Analyzing the Profit Potential of a SharEat Franchise: Factors to Consider
SharEat franchise could be a profitable business considering the fact that the company is earning crores of revenue every year. The co-founder of the company said earlier last year that they were aiming to expand nationally by providing around 1000+ franchises by the year 2025.
The growth of the company has been significant over the past few years and therefore it can be considered that its franchises can earn a good amount of revenue every month. The company is aiming to achieve INR 200 crore turnover by the year 2025.