Kulhad Pizza Making Business
Street cuisine is a hot topic, and Indians are improving daily. Indian street food sellers have created new culinary delights and inventive and intriguing variations on classic meals. We just came across a popular video of a 5-kg Surat ice gola covered in practically everything, including milk, almonds, mawa, ice cream, chocolate, and other syrups.
We also enjoyed the internet-famous Nutella biryani and Maggi milkshake. The internet is now in a frenzy about 'Kulhad Pizza,' a recent invention from Surat.
One Italian food that is popular worldwide is pizza. Many pizza enthusiasts worldwide, from the US, the UK, and India, are willing to try new flavours and experimentation. But it appears that even the greatest pizza fans approved of this Surat-made pizza. The plan seems to give the Italian sweet a desi twist.
Content Us For Digital Branding / Marketing
Why Is Kulhad Pizza Business Trending In India?
Everybody has tried on kulhad chai. However, have you ever encountered a kulhad pizza? Guys, we can't wait to eat our favourite pizza, which is now designed to be baked in clay pots. While several restaurants have been selling this unusual pizza, the one offered at The Cone Chaat in Surat, Gujarat, is currently gaining popularity.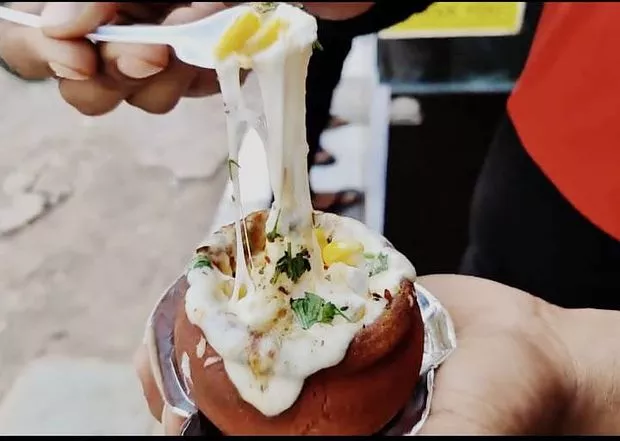 This food is produced by stuffing a kulhad with a mixture of pizza crust, veggies, sauces, oregano, cheese, and other ingredients. After that, an oven is used for baking the kulhad. The freshly cooked kulhad pizza that just came out of the oven looks like heaven!
How To Start Kulhad Pizza Business?
It is not at all difficult to start a kulhad pizza business in India. All you need is some basic knowledge of pizza ingredients. Also, you need to have a tie-up with a kulhad manufacturer who can provide you with kulhads in bulk.
Let your audience know about your kulhad business with good marketing skills. You can also hire influencers who can help you with the right exposure. 
Machinery Required For Kulhad Pizza Business
You need to have a strong oven where you will be baking your kulhad Pizza. That's it; there is no need for any other machine. Connect and collaborate with a wholesaler of kulhads and you are all set. You will be needed to chop vegetables, so a good chopper is a great idea.
Else you can do it with a simple knife as well. Indians are known for their shortcuts; this business is a great example of getting delicious pizzas made in an easy way. 
Kulhad Pizza-Making Process
Before beginning to cook the pizza, the seller needs to create a pizza topping combination that includes corn, cottage cheese (paneer), tomato, bread pieces, and a variety of sauces, mayonnaise, spices, and herbs. The mixture of the elements follows.
The mixture is then put into the kulhads after this. Finally, it is covered with a thick layer of mozzarella cheese, sauces, seasonings, and an abundance of corn before being baked. The Kulhad pizza takes about 15 minutes to cook at any fast food restaurant.
This includes the time spent baking. Usually, the quantity of components used affects how long something takes to cook. Of course, you are free to add or delete items based on your preferences.
Investment Required For Kulhad Pizza Franchise
As our Prime Minister, Mr Narendra Modi, said, it is time to make your creativity earn money for you; people have thought of endless ways of earning. Kulhad pizza business has also gained huge traction in the Atmanirbhar Abhiyaan.
The investment for the kulhad pizza business is only Rs. 20000, where you can buy a good oven and some kulhads. It also includes the cost of cheese and vegetables. 
Profit Margin in Kulhad Pizza Business
The average cost of kulhad pizza is Rs 120 (approx). You can earn up to Rs 50 margin on every pizza after taking out the expenses of electricity, vegetables, and everything else. It sounds a great benefit for entrepreneurs.
Conclusion
India is considered to be the hub of creativity. Kulhad pizza is one of the leading businesses in India that has been dragging youngsters towards it. The unique flavours and soft cheese pull make you crib for more.