Packaged Drinking Water Business is one of the best and super-hit business model in current industry. Mineral Water Plant business is not only profitable business model but also you can start this business in low investment.
In this article, we will cover all the aspect, business requirement, Packaged Drinking Water Business investment, Legal documentation along with the detailed business guide on how to start the Mineral Water Plant Manufacturing business with low investment.
Today, water getting worse for drinking and people are trying to use mineral water with rich content like barium, iron, manganese etc depending on the Quality row water content. So to purify and getting good quality of water is super important now a days.
Mineral Water Business Scope
According to the business wire, the Packaged Drinking Water Business has tremendous scope. This Market is going to reach around ~403.06 Bn Indian rupees by the end of 2023. Today its current value of ~160 Bn Indian rupees, expanding at a compound annual growth rate (CAGR) of ~24.75% from 2019.
Based on volume, the Packaged Drinking Water Business market is likely to reach ~$35.53 Bn litters by 2023, expanding at a CAGR of ~18.25% from 2018 to 2023.
Check the water purification business Live demo
How To start Mineral Water Business
In India, Indian railways, Township apartment, metricities are one of the top consumers of packaged mineral water business.
Today, there tons of small-scale water supplier available who making this business and generating the huge potential.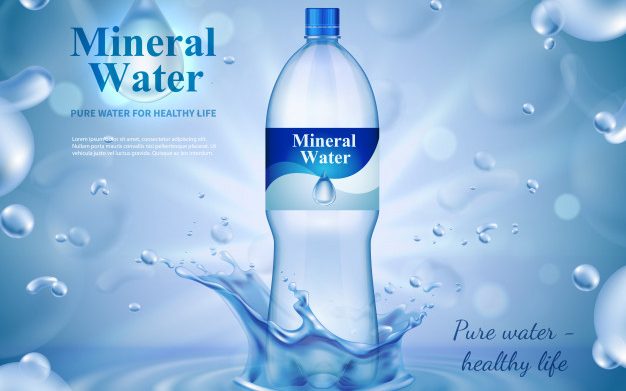 In general, the water bottles are usually come in different variety like 20 Litter,5 litter, 2 litter and so many different packaging.
With thousands of small-scale mineral water supplier in the market, the major consumer of this product is Indian railways; the Indian railway is a huge potential market for mineral water.
Also, Read | 15 Indian Watch Brands: Popular Watch Brands For You
Registrations & Licenses for Mineral Water Plant Business
So now, before starting any business in India, you must have business registration and legalize the mineral water business. Similar to all business, you also need some licence/Certification form government authority which is maintained below.
#1) Registration of Firm:
You can register your firm as MSME if planning to start a small scale business. Also, you may start the small to medium Mineral Water Plant Manufacturing business either a Proprietorship or Partnership Firm, or with a private limited company.
Other Option are OPC (One-person company) if you are planning to start business with single alone.
Also Read | How to Register Your Company in India
#2) BIS Certification:
You can also obtain Certification for ISI Specification for packaged natural mineral water (IS 13428:1998) and for also packaged drinking water (IS 14543: 1998)
#3) GST Registration:
After launching the GST as New Goods and Tax Service, this is mandatory now to take it for all kind of business therefore, you need to apply for GST registrations
Also Read | Register Your GST Now – GST Registration In India
#4) Trade License:
This is local license you can obtain from the Local authority.
#5) Pollution Certificate:
Oh, Pollution certificate is required why because, today environment is getting poor and currently government is looking for the pollution free energy source. So for your this business you must have this certificate.
#6) Trade Mark:
If you want that your brand can be protected, you need to have trade mark registration.
#8) Food Safety and Standard Authority of India (FSSAI):
All industry which produces food and inhale product required the FSSAI Licence for food quality.
#9) IEC code:
This license is required when Mineral water bottle needs to be export or import to other countries. Beasley you can say that this is for international business.
Area Required for Drinking Water Business Plant
Location and area selection is always the backbone for any business. This can effect your business and budget too. If the selected area is not at proper location you may pay high transport charges and too much rent for business.
1000 Square feet area would be sufficient for this business in initial stage to start Mineral Water Plant.
You can divide this area in two part
1. Machinery and equipment
2. Packaged/Processed bottle and row material storage area.
Location should easily accessible to the target market and at that location, there should be enough water resources and energy [Electricity] supply.
Raw Materials Required for Water Processing Unit
For Mineral Water Manufacturing Plant, The basic raw material required for Mineral Water Plant Manufacturing is normal water which can be easily available to the natural resources or can get it from the municipal corporation water supply lines.
Rest other materials are which is required for water purification are as given below
• Bottles
• Bottle Cape
• Pouches
• Cartoon Boxes.
• Chemical
• Reagents
For more details about the machinery plant, you can check the below video for more information.
Mineral Water Processing Plant Machinery
In market, there are variety of machine available. You can differentiate the machines by capacity, production ratio and so on.
Usually, there are two type of machine available in the market.
1- Fully automatic Machine
2- Semi-Automatic Machine
The cost/Price of machine depends on the features present in machine. So according to your needs and current demands, you can choose the right product.
Apart of this, here we are listing some other machine which might be helpful for you.
Storage Tanks
Sand Filter Activated Carbon Filter And Micron Filters
Treatment Tanks
Reverse Osmosis Plant
Chlorination Tanks
Sand Filter
Activated Carbon Filter
Micron Filters
Ultraviolet Disinfectant System
Electronic Dover For Alum and Chlorine
Ozone Generator
Water Sterilizers and Dispensers
Water Filling Machines
Bottle Wrapping Machine
Process for Water Purification
Before starting the Mineral Water Processing Plant, you must have to understand the complete life cycle of the water processing unit. Here we are listing the complete 8 steps which might be helpful for you.
Step 1 Water Collection
Initial stage, you have to collect the row water which is required to be purified. Collect and store the row water into a storage tank where water is dozed with alum for coagulation with heavy metals or insoluble matters
Step 2 Impurities Removal
Once the water gets settled, the next process of impurity removal will takes place with the help of osmosis technique.
Step 3 Processing of Bubbling Chlorine Gas
Post the osmosis process done, this water will be shifted to the chlorination tank where primary disinfection is brought about by the bubbling chlorine gas process.
Step 4 Sand Filtration
In this step, the water process through the sand. Where the send water trap the undissolved impurities.
Step 5 Carbon Filtration
After sand filtration water is passed through the carbon filtration for removal of color, odor and dechlorination process is takes place.
Step 6 Micro Filters
Post the above process, the process of micro filters for terminal disinfection started. Micro filters having a comprising series of 5 microns, 1 micron and 0.4-micron filter followed by ultraviolet disinfection system.
Step 7 Bottle Filling
Now in this step, the water is already purified, so now the mineral water is passed through a bottle filling machine where water is filled into the bottles,
Then bottles further send to the capping machine where caps are fitted on the bottle with ozone generator or shrink wrapping.
Step 8 Complete Packaging
Till this stage, Mineral water is ready selling. But being a manufacturing company, we need to start making complete binding and packaging for transport purpose so that the manufactured water can be send to the distributors and retailers.
#7 How to Sell Mineral Water Bottles
Starting a mineral water plant manufacturing unit, making it productive is very easy why because everything is a part of the investment. The main problem and challenges occur when you are trying to make a sale of the mineral water.
Now Let's try to understand, how to sell the product in small and large scale. Want to know the complete details of profit analysis of Mineral Water plant business? Check the below link for more details.
Market identification is one of the most important criteria for both retailing and industrial retailing to build a strong distributers network.
Here are some important niche you can target to the above products.
Local market (retail market)
As you know our Indian PM is also trying to focus on the local market and local manufacturer. It's the best option to Contact the retailers who can buy your product and helps to introduce your product to the customers.
Here are some local sectors where you can sell a product:
1- Commercial kitchen
2- Culinary schools
3- Fast food outlet
4- Restaurant
5- Retailers
6- Supermarkets
7- Local apartments
Wholesale market [Bulk Selling]
Retailing is off course best ideas through local market. After building the wide distributor network, you can get the regular client for bulk purchasing.
You can connect the below
1- Goods Agent
2- Other distributors
Online market
B2B Websites:
For International and national market expansion, you can Register your business on B2B websites like
• Alibaba
• Ali expresses
• Indiamart
• Tradeindia
• Exportersindia
• Startup authority
• Udan india
• Olx india Etc. you can sell your product on bulk orders.
Export market
For international trading, you can export your mineral water bottles, for exportation of any product you need to apply for IEC (import-export code).
Brand and Uniqueness
The most important part is here to make and build the brand because people are aware of personal hygiene and health, therefore, they consume mineral water. you just have to offer them clean and hygiene mineral water and tell them about your brand through social media marketing and with the help of other marketing strategies.
Final words..
In this article, you have learned about How to Start Mineral Water Plant? From scratch to depth. If you feel this information is suitable for you, you can share this with your friends and social media.