What is Red Bucket Biryani Franchise?
Red Bucket Biryani Franchise: Do you know Biryani is the most-ordered item on both Zomato and Swiggy? Biryani has always been the top choice for many Indians whenever they visit a restaurant. Some people have become famous or gone viral by eating just biryani their whole life. Biryani is surely one of the most-loved food items that Indians love to eat. In the same way, Red Bucket is a restaurant known for selling its special biryani. Red Bucket biryani franchise is one of the rapid-growing restaurants in Suryapet.
Hyderabad is just known to serve the best biryani to people. So, opening up a biryani franchise would surely be a profitable one. Red Bucket Biryani has been in the Indian market for more than 25 years. Getting one of their franchises is quite easy and smooth.
Additionally, this restaurant has opened up many franchises around the country. The biryani restaurant is quite famous for selling its aromatic biryani. Before opening up, one of their franchises does visit one of their outlets to try out their special biryani.
Want to Grow Your Business - Contact Us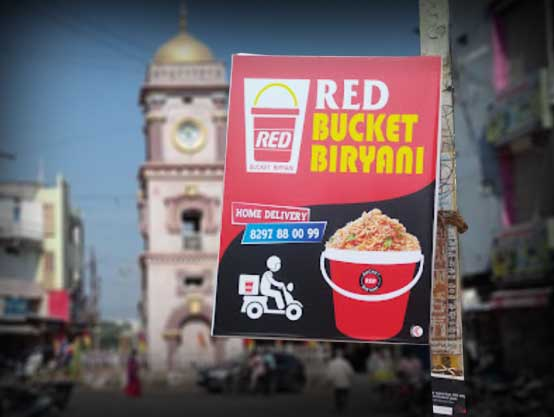 Why Red Bucket Biryani Franchise?
In the first three paragraphs, we gave various reasons why one should select a biryani franchise. Opening up any food franchise and offering quality food will surely attract customers. There is no way that your business will see a fall down.
We can give you a long list of reasons why you should go for the Red Bucket Biryani franchise. But, some of the main reasons to go for a Red Bucket Biryani franchise are the following:-
Highly convenient- People who have opted for Red Bucket Biryani franchise have revealed that they are highly convenient. The corporate department of the restaurant promises to offer in any problem that their franchise faces. Interestingly, they do fulfill the promise that they make.
Attractive Interior- The interior of Red Bucket Biryani is very catchy and attractive. All the interior designs, types of machinery, and some other tools are placed by the parent company.
Chefs from the parent company- Red Bucket Biryani sends one of the highly trained chefs to your franchise. The company believes chefs are their real heroes and that should be maintained anywhere a franchise is opened.
Pro-active Sales and Marketing team- Red Bucket Biryani has one of the best sales and marketing teams. The team is highly innovative as they promote their products in a unique style on various platforms. This way the products that will be sold in the new franchise are marketed by the parent company itself.
Must Read: How Much is a Dutch Bros Franchise Cost, Profit Margin ?
Red Bucket Biryani Franchise Cost
Normally, restaurant chains do not charge huge to open their franchises. In the same way, Red Bucket Biryani's franchise cost is very budget-friendly. Additionally, you get your investment in a very short span. This is because the restaurant chain has become so successful in the Indian market.
The main food item sold by Red Bucket is biryani of various types. After opening one of their franchises the most basic requirements would be rice and chicken in large quantities. These will be your basic requirements and of course, there are monthly bills that need to be covered.
Now, the franchise cost depends on the location that you are opening. The average franchise cost of opening a Red Bucket Biryani is between Rs 12 lakhs to Rs 15 Lakhs. If you have such a amount in your bank account, then do start investing in the right franchise.
Red Bucket Biryani Franchise Business Model
If you open any restaurant franchise then it will surely grow in the future. This is because the population is not decreasing but, increasing daily. Additionally, the trend of eating food outside will always remain a trend. This will help all the restaurant outlets or franchises to grow and earn enormously in the future.
In the same way, Red Bucket Biryani's business model is very simple. The restaurant chain has become so famous because they focus on quality rather than quantity. Other than that, if the price of the product is very reasonable then customers will automatically come to visit your franchise.
Red Bucket Biryani franchise has kept its product cost very reasonable along with great quality. The only target of this franchise is to bring authenticity to the biryani. The company has revealed that it will further open up more and more franchises all over the country. Additionally, all of them will serve one of the best biryanis to customers.
Must Read : Tim Hortons Franchise in India : How to get?
Red Bucket Biryani Franchise Profit Margin
The profit margin for any restaurant chain at a good location is enormous. Many people won't believe but even some small and unknown restaurants have a hand-to-hand transaction of 1 lakh daily. If you offer quality food at a reasonable price then the profit margin will never decrease.
In the same way, Red Bucket Biryani has constantly been offering premium food quality. The food quality offered by them is highly appreciated by almost every customer who visits. You can just search for their name on Google and check the reviews given by different people.
The average profit margin that you can get from this franchise is between 30-35%. So, you can expect your return on investment within two years and not more than that. If the franchise is running extremely well then even before that.
Red Bucket Biryani Franchise Area Requirement
To open any business franchise you must have a good piece of land. Yes, the requirement for the land highly depends on what business line you are opting for. Additionally, to open a restaurant franchise you do not require much land but, the location must be great. It must attract customers and they must know a brand new franchise has opened up.
Red Bucket Biryani does not force its franchise takers to have huge land. They are very reliable and convenient from the point you fill out their franchise form. Now, the area required to open a Red Bucket Biryani franchise is between 300 to 400 square feet. If you have this much area then you will be able to open a Red Bucket Biryani franchise easily.
Red Bucket Biryani Franchise Review
Your product describes your face. To stand in any market the product quality must be great and innovative. People will automatically come to your business and buy your product whatever the value. Other than that, the price must be reasonable along with its quantity. Customers must not feel that they are betrayed, once they feel betrayed, it is the end of your business.
But, surely that is not the case with Red Bucket Biryani. People who have visited the outlet have loved the food items. Additionally, the interior, working process, and staff members, of them are just amazing. People have rated the restaurant 4.6 out of 5 which is quite outstanding.
How to start Red Bucket Biryani Franchise?
Starting a franchise is quite easy. The individual must contact them and the rest of the process is done by the parent company only. Similarly, if you want to open a Red Bucket Biryani franchise then all the processes and procedures are very smooth.
You just need to visit their official website and select the 'Franchise' tab. In the next step, you will find all the contact details of the parent organization. Now, you can either fill out a form to open up their franchise or make a call at their phone number.
Red Bucket Biryani Franchise Contact Details
Email ID- [email protected]
Phone Number- 7036043234 9063494006