Do you want to sell a popular brand of Chai in India? If you really like Chai and want to start a business in the Chai industry, Yewale Tea Franchise business could be a good choice for you. In this article, we talk about how much it costs to get a Yewale Tea franchise, how to apply for Yewale chai franchise, what documents are needed, and much more.
So, before you move on, try to figure out what the tea business is like now and how it can help you. Yewale Tea has a good chance to grow in a big way. In India, many people still like tea better than coffee, and Yewale Amruttulya is the place to go for all tea lovers. Yewale Tea makes its own tea powder and masala, which makes it stand out from other brands.
Why Yewale Tea Franchise ?
Earlier you have seen the most fascinated news "A chai wala earned 12 lac rupees monthly" I hope you remember that news, now that Chai Wala Yewale Chaha started his franchise with the Yewale tea franchise with Yewale Amrittulya franchise.
Want to Grow Your Business - Contact Us
If you are a true tea lover and want to start your business in the tea industry yewale tea franchise business can be a good option for you. before moving forward, let's try to understand what is tea industry is now and how much benefits/ scope of the tea business.
In this article, you will be able to understand complete step-by-step information of Yewale tea franchise business like what will be the Yewale tea franchise cost or Yewale tea house franchise cost? how to get Yewale tea franchise? what are the Yewale tea franchise details? and Yewale tea franchise office address. Let's not waste your time and try to understand the scope of a yewale amruttulya franchise/yewale chai franchise.
Company Details
| | |
| --- | --- |
| Active Outlets | 300+ |
| Type | Privately Held |
| Industry | Food & Beverages |
| Founded | Mr. Navnath Yewale |
| Headquarters | Pune, Maharashtra |
| Yewale Branch | Day by day it is increasing across India as well as foreign, approx 280 branches |
| Daily Customers | 5 Lakh+ |
| Franchising Since | 2017 |
| Current Status | Franchising Actively |
Yewale tea franchise details
Scope of Yewale tea franchise business In India:
You will be super excited to know that Indian territory has a 30 Billion dollar tea market size with a stack of 31% of total world tea production. Indian tea industry business in around 170 to 180-year-old industry. Right now we have 1692 official registered tea manufacturers, 2200 officially registered tea exporters along with 5548 registered tea buyer,s and 9 tea auction centers in India.
According to the research, India is the world's largest tea producer-consumer and exporter. so starting a business with the tea industry will be one of the most profitable businesses in India.
Yewale tea franchise details
Yewale tea franchise / yewale chaha is Pune based startup with the brand name Yewale amruttuly has owned the heart of Pune and expending their business not only nearby Maharastra but also extending the business to all parts of India. If you will check the company website, you will find tag lines for the journey of cup and Pune to peris the road ahead.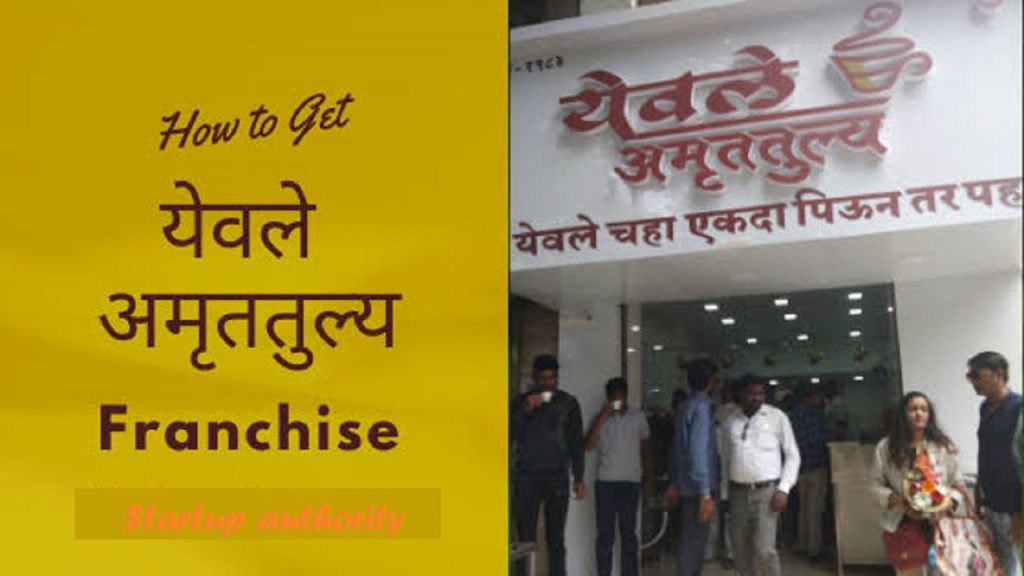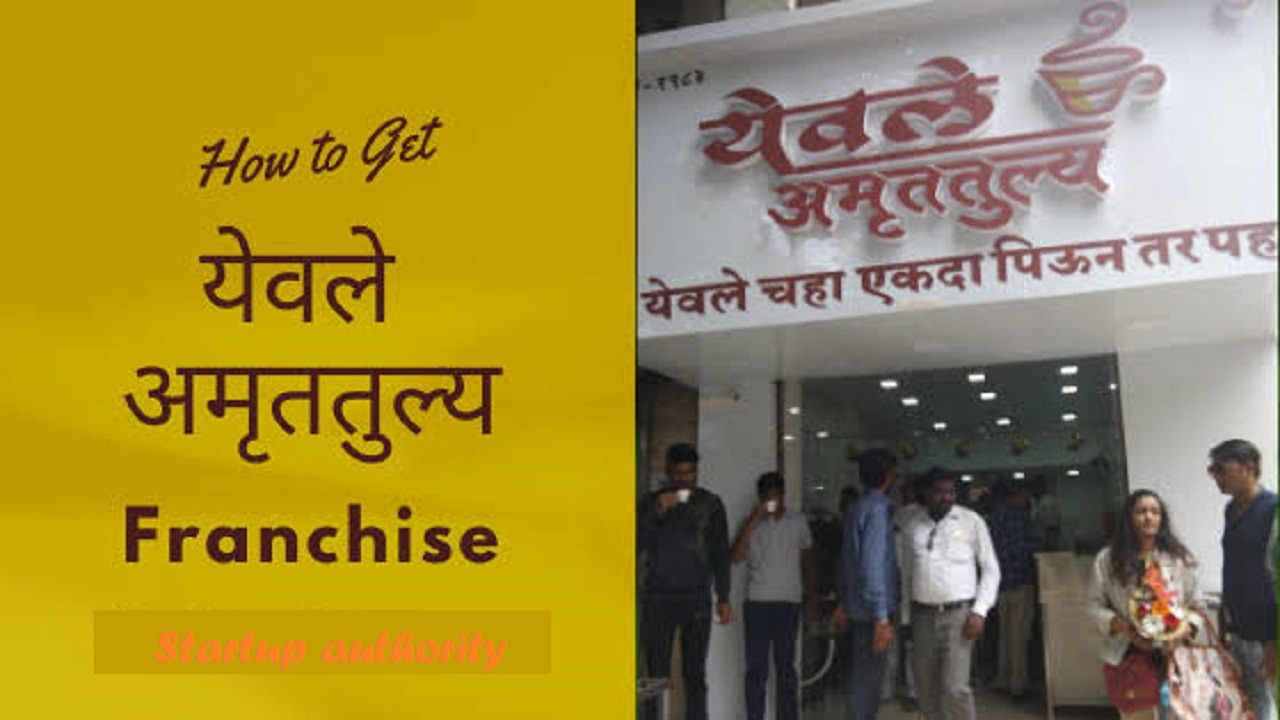 The company is preferring youngers over experience businessmen to allot the franchise. so if you are a youngster and have a deep desire to work in the tea industry, this will be the best option for you.
Yewale amruttulya chai franchise cost
Let's try to understand about details about Yewale tea franchise cost, to start this business you must have the below-required details
Initial investment:
Store setup and investment breakup for yewale franchise is as follows
Interior decoration, plumbing work, civil work, hardware, and ACP Panelboard required 400,000 indin rupees investment
Steel counter, Refrigerator, cooler, mil boiling machine, milk cane and gas pipeline will cost around 410,000 Indian rupes
Kitchen Equipment takes around 70,000 Indian rupees.
For marketing and other related stuff, the company has added around 150,000 Indian rupees.
Outlet launches expence is aprox 100,000 Indian rupeees.
For IT infra stutrcure like software, billing tab, CCTV, LED wi-fi connection will charge around 92,800 Indian rupees
For Housekeeping and material, the included charge will 67,800 Indian rupees.
So the total investment for the Yewale franchise is around 1,300,000 Indian rupees to start a Yewale franchise business near your location
How much is a Yewale Chaha Franchise cost?
If you talk about the exact franchise cost of Yewale Chaha Franchise, it's 3,00,00 ₹ + 18% GST that becomes ₹ 3,54,000.
| | | |
| --- | --- | --- |
| Sr. No. | Elements | Cost |
| 1. | Interior decoration, Plumbing and civil work, Hardware, ACP Panel, Board | 4,00,000 |
| 2. | Steel counter, Refrigerator, cooler, mil boiling machine, milk cane and gas pipeline | 4,10,000 |
| 3. | Kitchen Equipments/ Fittings & Lighting | 70000 |
| 4. | Signage(Ext) + Internal LED + Road Side Board, Marketing Expenses | 1,50,000 |
| 5. | Infrastructure(Software, Bling Tab, CCTV, / LED TV(42 Inch), WIFi | 92,800 |
| 6. | Housekeeping Material and Equipments | 67,200 |
| 7. | Franchise Fee | 3,00,000 |
| 8. | Expected Profit per month for Franchise up to | 1,00,000 |
| | Total Project Cost with GST(18%) | 14 Lakh to 15 lakh |
Yewale Chai Franchise Cost
License Required to start Yewale tea franchise business
Almost every food-related business required the below license.
FSSAI
Shop Act
ID Proof: Aadhar Card, PAN Card, Voter Card
Address Proof: Electricity Bill/Ration Card
Photograph, Email Id, Mobile Number
Shop agreement / Sale deed
Rent agreementEstablishment license
Outlet Trade license
ITR(If needed, the company can also ask for last 2yr ITR)
You also get these all licenses from a link with the Startup authority.
Other required details for Yewale tea franchise
| | |
| --- | --- |
| Required Shop area | 250 -300 square |
| Franchise Fee | 300,000 Indian rupees |
| Investment Amount | 1,300,000 Indian rupees |
| Monthly expected Profit | 100,000 India rupees |
| Franchise terms | 5 Year |
| Store timing | 5 AM to 10 PM All 365 days |
Requirements for Yewale Tea Franchise
How to get Yewale tea franchise
You can get the Yewale franchise either visiting the head office or you can also apply online for this business opportunity.
Please fill this form to get Yewala tea Franchise http://yewaleamruttulya.com/ApplicationForm1.aspx
What are the benefits of franchises for tea businesses?
A bundle of advantages is there for any type of franchise business, in the case of yewale franchise you will get partnered with a well-known brand with an already well-established audience.
Is the Yewale tea franchise profitable?
Yes absolutely, but it highly depends upon the region & how well established is the brand in that particular area. For example, Yewale tea is a well-known name in south India, particularly in Maharashtra region and Delhi NCR, but people in Bihar, Punjab, and other northern parts of the country are not that much aware. Therefore chances of this business in these areas being successful are very less.
Is yewale an Indian brand?
Yes, Yewale franchise is purely an Indian brand.
Is Yewale chai, yewale amruttulya chaha, yevale chai franchise same ?
Yes, all of these are the same Yewale Chai Franchise, their pronunciation differs on the basis of region. In south India, it's well known as yewale amruttulya chaha.
Is it a profitable franchise Business ?
Yes, you could say it's a good business, since it's one of the most popular drinks in India after water. So, you can meet more and more people in India through chai.
What 's the expected return on Investment in Yewale chai business ?
The return on investment (ROI) for the chai franchise is a bit high.
There are places that sell tea all over the country.
Yewale Chaha is a good choice if you want to start a business without having to worry about getting customers
How much can we earn from Yewale Tea Franchise ?
You can get your money back from a Rs. 15 Lakh investment in about 18 months.
This means that a single Yewale Chaha store makes about Rs.90,000 a month.